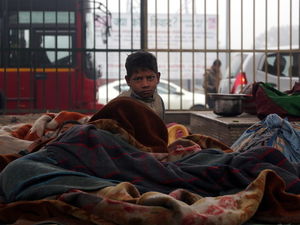 New Delhi - More than 150 people have died in a cold wave sweeping across northern and eastern India and dense fog disrupted air and rail services, reports said Tuesday.
Sixteen more people died in intense cold or fog-related accidents in the northern state of Uttar Pradesh on Monday, taking the region's death toll for the month to 140, the
Times of India
said.
Temperatures reached a low of 0.5 degrees Celsius in the state's Sonbhadra district.
Twelve more cold-related deaths were reported from the eastern state of Bihar, national capital Delhi and neighbouring Haryana state, reports said.
Thick fog at the Delhi airport led to delays of about 100 flights and cancellations of 16 more, broadcaster NDTV reported. About 100 trains were running late due to low visibility.
Winters in India are brief, beginning in December and ending by February, but cause many deaths in the country that is better prepared for its long, hot summers.
Weather bureau officials say cold weather is likely to persist over the next few weeks in most of the northern regions.