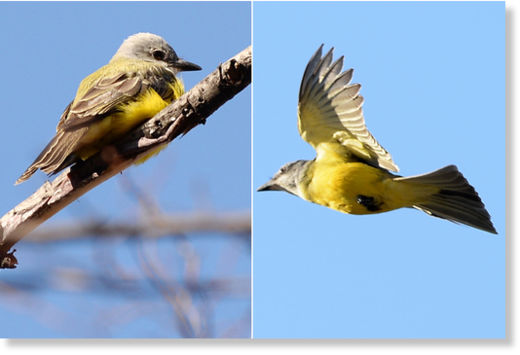 A lost tourist is bringing crowds of admirers to the West Village.
The Couch's Kingbird, a bright yellow bird
usually not seen in the USA north of Texas and Louisiana,
has been perching in Abingdon Square Park and other spots in the neighborhood, watched by dozens of bird watchers.
It's thought to be the first of its species to come to New York,
according to Phil Jeffrey, a scientist in the Department of Molecular Biology at Princeton who photographed the visitor at the weekend.
On Monday morning, more than a dozen bird enthusiasts waited with cameras on the corner of Washington and Jane Streets - one of the spots where it's been seen.
Noa and Mayra Cruz, 47- and 46- year old sisters from the Bronx, came to try to catch a glimpse of the Kingbird. They've been into bird watching since seeing a pair a mourning doves as they got off a Number 12 bus several years ago.
"There's a lot of nature," said Noa, "but no one noticed it. We didn't notice it for years."
Alex Burdo, 18, woke up at 3:40 a.m. in Fairfield, Connecticut and commuted into the city to try and see the bird.
A senior in high school, Burdo toted a camera with a large telephoto lens - a gift, he said, from the Make-A-Wish Foundation.
"I'm a cancer patient," Burdo explained. "And birding has really got me through it."
Passers-by thought the crowd was looking for a celebrity. David Danesh, 30, of Manhattan, asked some bird watchers who they were staking out, and was surprised and amused at the answer.
"I mean, whatever makes them happy," said Danesh. "If they enjoy watching birds, God bless them."
New York City is not a hospitable place for the Kingbird, though he is a welcome visitor. The bird survives on a diet of insects, which are not plentiful at this time of year.
"The bird's probably not going to survive," said Jeffrey.