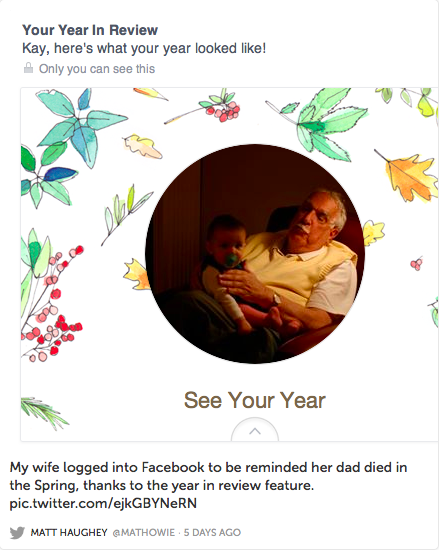 If you've logged into Facebook at all in recent weeks, you may have been met with a prompt to "see what your year looked like" through an auto-generated timeline of photos you've shared on the social network in 2014.
This annual feature, called "Year in Review," is meant to highlight your "most significant moments" over the past 12 months based on which of your posts were engaged with (read: liked, shared, commented upon) the most.
For those who've enjoyed a good year, these customized social scrapbooks can serve as a pleasant reminder of everything celebrated and accomplished in 2014.
Many users (perhaps
too
many
) even choose to share their Year in Review timelines with friends and family on the social network using the feature's default status update: "It's been a great year! Thanks for being a part of it."

Unfortunately for those who've had a rough 2014, however, Facebook's algorithm
can't yet identify a positive post from a negative post
- it can only suggest photos for the timeline based on the amount of attention they received.

Comment: In making an apology, it is astounding that Facebook would presume to not understand the ramifications of launching a program that mimics psychopathic behaviors, not understanding the fallout of their program:

Corporate Psychopathy

Irresponsible
Manipulative
Grandiose
Lack of empathy
Asocial
Unable to feel remorse
Often refusing to accept responsibility for their own actions.


Thus, if an update about a loved one's death, a bad breakup, or another life hardship happened to attract the most comments on a particular user's feed this year, that's what he or she will be presented with by Facebook's automatic Year in Review prompt.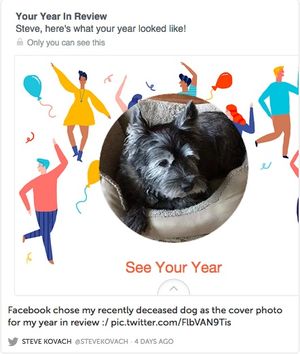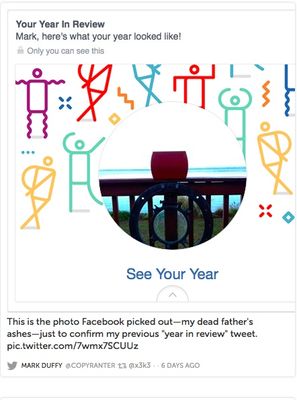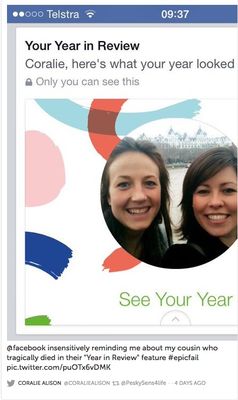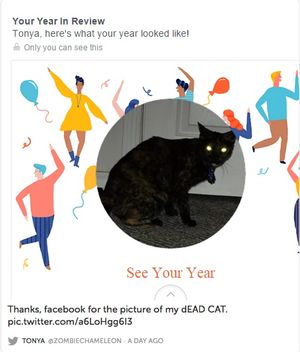 Among those who've criticized Facebook for bringing up painful memories is Ohio web design consultant and author Eric Meyer, whose 6-year-old daughter Rebecca died of brain cancer earlier this year.
In a Christmas Eve blog post titled "
Inadverdent Algorithmic Cruelty
," Meyer described how it felt to see his deceased daughter's face pop up unexpectedly within the social netowrk (surrounded by festive clip-art, no less) with the words "Eric, here's what your year looked like!"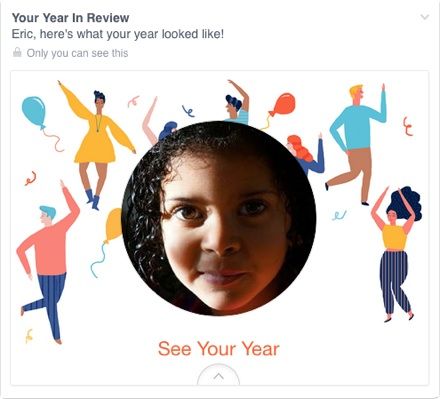 "Yes, my year looked like that. True enough," he wrote in the blog post. "My year looked like the now-absent face of my little girl. It was still unkind to remind me so forcefully."
Meyer went on to say that he didn't think the prompt was "a deliberate assault," and that Facebook's algorithm likely works well for the majority of users who wanted to be reminded of "the awesomeness of their years."
"But for those of us who lived through the death of loved ones, or spent extended time in the hospital, or were hit by divorce or losing a job or any one of a hundred crises, we might not want another look at this past year," he wrote. "To show me Rebecca's face and say 'Here's what your year looked like!' is jarring. It feels wrong, and coming from an actual person, it would be wrong. Coming from code, it's just unfortunate."

Not long after Meyer published his blog post, it began to circulate on the viral web as users continued to share their own bad experiences with Facebook's 2014 Year in Review feature.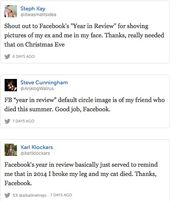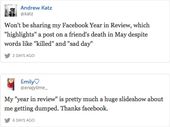 A Dec. 26
Washington Post piece highlighting the issue
caught the attention of Jonathan Gheller, the product manager for Facebook's Year in Review feature.
Gheller confirmed to the Post that indeed, photos for each user's Year in Review timeline were predominantly selected based on "the number of interactions and pictures an image gets on Facebook."
He also issued an apology directed towards Meyer specifically.
"[The app] was awesome for a lot of people, but clearly in this case we brought him grief rather than joy," he said, noting that he had reached out to Meyer personally. ""It's valuable feedback. We can do better -- I'm very grateful he took the time in his grief to write the blog post."
In
a follow-up blog post
, Meyer confirmed that Gheller had sent him a "sincerely apologetic" email even before "the story started hitting the papers."
He also clarified that his intention was never to slam or shame Facebook's Year in Review team.
"I honestly expected "Inadvertent Algorithmic Cruelty" to be read by maybe two or three hundred people over the next couple of weeks, all of the friends, colleagues, and friends who are colleagues," he wrote. "I hoped that I'd maybe give a few of them something new and interesting to think about, but it was really mostly just me thinking out loud about a shortcoming in our field. I never expected widespread linking, let alone mainstream media coverage."
"So the first thing I want to say: I owe the Year in Review team in specific, and Facebook in general, an apology," he continued. "[I'm} also determined to do better in the future. But I am very sorry that I dropped the Internet on [Gheller's] head for Christmas. He and his team didn't deserve it."