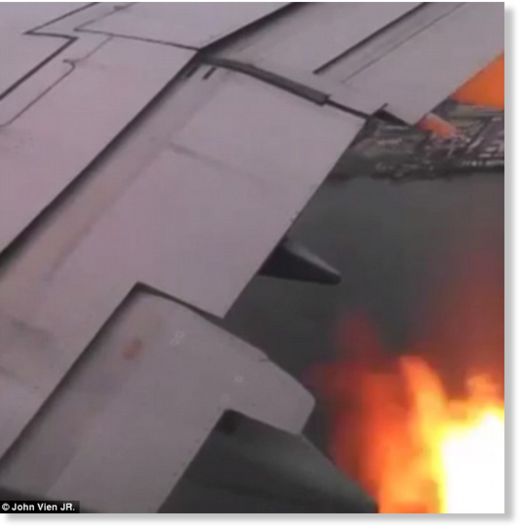 A passenger on a flight to Manchester that was returned to Philadelphia after an engine problem has told how he feared for his life after seeing flames shoot out from under the plane.
John Vien was on his way back to New Hampshire to visit his family for New Year's yesterday when the emergency happened.
Mr Vien, who was one of 75 passengers on the plane, said the mood inside the cabin quickly went from panic to hysteria. From his window seat he filmed the flames.
He told
Wmur.com
: 'I thought I was going to die, and I was like, 'I'm going to take this video just to be my this is what happened guys'.
Mr Vien said the malfunction was constant, with banging noises followed by bursts of flames. He said 'the whole plane was just shaking' and people were crying, 'we thought it was the end of our lives'.
He said the person sitting next to him was 'white as a ghost'.
Mr Vien said the explosions and the flames lasted for about 2-3 minutes. The plane, an Embraer 175, landed about 10 minutes later, he believed.
Another passenger, Michael Hill, who was also sitting by a wing, texted his wife as the drama unfolded telling her that he loved her.
The pilot turned the plane around and it landed safely at Philadelphia International Airport. The passengers and the four crew were not injured.
Video of the flight showed flames shooting out of the U.S. Airways Express Flight.
Another passenger, Thomas Deneault, recalled hearing a 'loud noise' which made the aircraft shake - something that happened every few seconds.
He said the pilot was trying to activate something that was 'failing repeatedly'.
Mr Deneault said 'the worst part' was hearing the pilot's failed attempts to restart the engine.
Passengers clapped and cheered after the plane safely landed in Philadelphia.
Mr Vien said: 'When we got on the ground, people applauded. People were crying. It was like we were given new life. I was convinced we were going to die in the air until we hit the ground.'
It has been reported that the airline believed the incident was related to a maintenance issue. The FAA is investigating