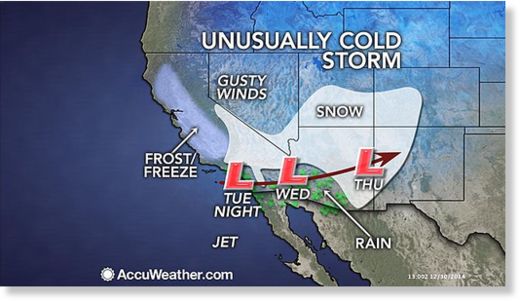 A storm and cold air forecast to develop at the end of 2014 and linger into the start of 2015 will deliver snow, rain and a frost or freeze to portions of California. The
coldest air of the winter months so far
will settle over California during the middle and latter part of this week.
At the same time, a storm will form nearby and bring snow and slippery travel to the passes and high deserts of California. While temperatures are not forecast to drop to record-low territory for much of the state, the
air will get cold enough long enough to bring a frost and freeze to the Sacramento and San Joaquin valleys, as well as part of the central coast of California.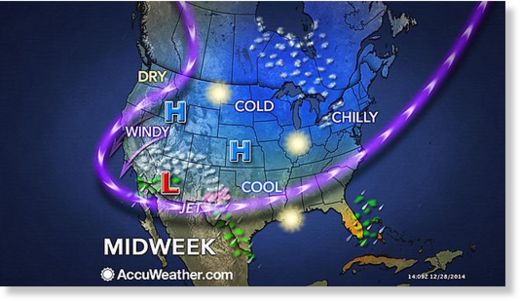 The snow is forecast to fall over the northern Sierra Nevada along with locally gusty winds on Tuesday and over the mountains of Southern California Tuesday evening into Wednesday.
Showers of rain and wet snow are possible over the high deserts and could reach lower elevations over the interior of Southern California, such as Palm Springs and the Mojave Desert.
The storm will also bring some cold rain showers to coastal Southern California on Tuesday and Wednesday. However, the amount of rain is not likely to significantly impact drought conditions in the region. Little to no rain is forecast in lower elevations with the storm over northern and central California.
More significant rain and snow will fall farther inland over the Southwest. Up to a few inches of snow are forecast to blanket Las Vegas, with heavy snow likely in the mountains of northern Arizona, southern Nevada and the Four Corners region in general.
When combined with brisk winds, AccuWeather.com RealFeel® Temperatures will dip into the 30s at times around Los Angeles and San Diego at midweek for New Year's Eve revelers.