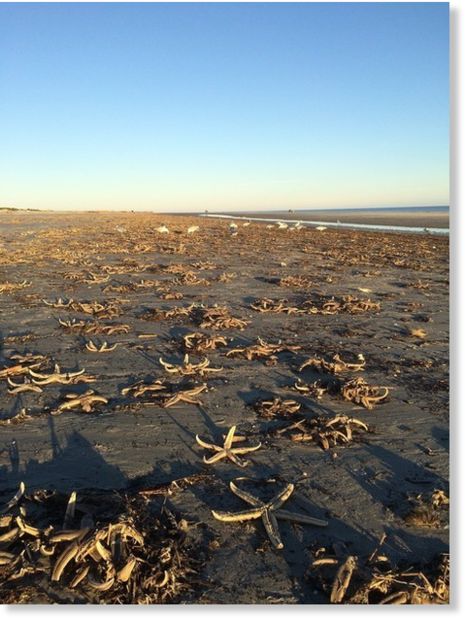 Thousands of starfish were stranded on Fripp Island on Christmas Eve, likely because of the day's stormy weather, according to a marine veterinarian.
Al Segars of the S.C. Department of Natural Resources said he had not looked into the stranding, but said strong winds could have caused the creatures, also known as sea stars, to wash ashore. Christmas Day beachgoers estimated that roughly 100,000 sea stars were on the beach.
The Sea Islands experienced the same thing last year, Segars said.
"I wouldn't say it's anything out of the ordinary," he said. "These guys are just sitting on the bottom, so if you've got a strong wave action, they can't fight the current."
George Sedberry, a science coordinator in national Office of Marine Sanctuaries, said he has not studied this stranding but offered other possible explanations for the sea stars' deaths.
The creatures have poor tolerance for water with low dissolved oxygen, which can wreck a population, Sedberry said. Those events are commonly reported in the Myrtle Beach area, but a dip in oxygen levels is unlikely to occur in the winter or as far south as Fripp, Sedberry said.
Some of the sea stars could also have been unintentionally caught by shrimp trawlers and then discarded, Sedberry said. He noted there may have been increased fishing to meet seafood demand for the holidays, as well as to prepare for the upcoming end of commercial shrimping season.
Segars said it's possible fishing played a role in the stranding,
though he's seen similar events before when no trawling was occurring.
"I don't know how you would differentiate between the two (causes)," he added.
A wasting disease has decimated Pacific starfish populations in recent years, but Segars said he is confident a virus is not to blame.
"We haven't seen any evidence of that in this area," he said.