At least 29 people have been reportedly killed and 10 are missing in flash floods and landslides triggered by Tropical Storm Jangmi which is hitting the Philippines for the second day.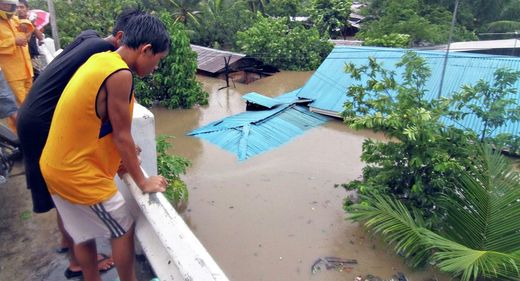 Flash floods and landslides, caused by a Tropical Storm Jangmi, known locally as Seniang, have left at least 29 people dead and 10 missing after hitting the Philippines for the second day running
, according to AP reports.
The eye of the storm was 108 kilometers southwest of central Iloilo City, moving west at 19 kph toward western Palawan Island, the agency quotes the government weather bureau as saying on Tuesday afternoon.
At least 12 people died when a landslide swept away two vans and six houses near a mountainside highway
in eastern Catbalogan City, said Mayor Stephanie Uy-Tan.
She added that voices could still be heard from one of the vans and that rescue efforts were ongoing.
Thousands were evacuated ahead of the storm's arrival, with most expected to be sent home later Tuesday as floodwaters start to recede.
But
some residents in vulnerable areas ignored the evacuation warnings
, she said.
"
The rains were really strong and people thought the storm won't be too strong based on the news
,"
The Indian Express
quotes her as saying.
10 family members, including three-year-old child, died as their creek-side house was washed away by flash floods in central Cebu province, according to Olive Luces, a regional civil defense official.
Three other people were missing in the same town.
Army rescuers retrieved five bodies from a house buried by landslide in Tanauan, a town located in the eastern province of Leyte, which was also devastated last year by Typhoon Haiyan
Two teenage boys have reportedly died from being electrocuted while wading through floodwaters at Loon in Bohol province,
The Indian Times
quotes Allen Cabaron from the civil defense office as saying.
Up to 14,000 people were evacuated in the Surigao del Sur area of Mindanao, where Jangmi first hit.