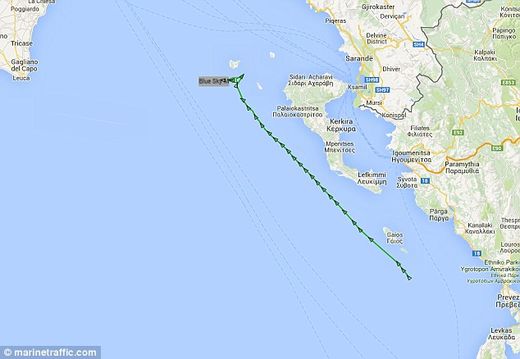 A ship carrying hundreds of passengers near the island of Corfu has issued a distress call because of armed people on board, according to the Greek shipping ministry.
Several reports say the vessel, currently off the coast of Corfu, is carrying 700 passengers.
Greek state television has reported that 'illegal immigrants' are involved in the situation on the ship, while other news sources say all 700 passengers are 'undocumented migrants'.
The vessel that sent out the distress call is a Moldovan cargo ship called
Blue Sky
, Corfu Port Authority President Spiros Andriotis told
protothemanews.com
The cargo ship was headed to a Croatian port when it sent out the distress call, but tracking services show that the ship made a sharp turn, setting course towards Italy.
Greek authorities have sent navy helicopters to the spot to aid the ship.