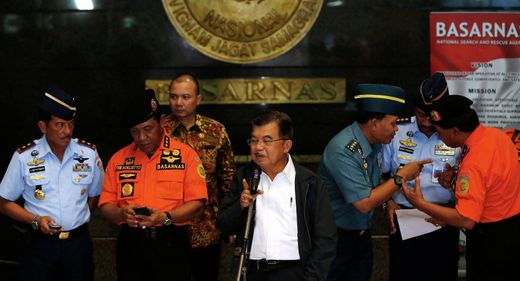 The missing
AirAsia
plane with 162 people on board
might
have crashed, according to Indonesian Vice President Jusuf Kalla, Chinese news agency Xinhua reports Sunday.
"
We haven't got any information
that indicates where the plane crashed," Kalla said during a televised press conference Sunday evening, as quoted by Xinhua.
Previously, it was reported that Kalla was directly in charge of supervising the rescue operation of the missing plane at the headquarters of the National Search and Rescue Agency (Basarnas) in Kemayoran, North Jakarta, according to Jakarta Post.
However, rescue teams had to halt the search operation as the night settled in. Indonesia's Transport Ministry said the search operation would resume on Monday morning, as early as 7 a.m. local time (12 a.m. GMT).
Earlier today, it was reported that flight QZ8501 operated by AirAsia Company, heading from Surabaya, Indonesia to Singapore, disappeared from the radars.
According to the statement issued by AirAsia, air traffic control lost contact with flight QZ8501 at 07:24 local time (00:24 GMT). The aircraft had 155 passengers and seven crew members on board.
The plane was operated by an Indonesian captain, who had a substantial number of flying hours a total of 6,100, and a French co-pilot with a total of 2,275 flying hours, according to AP.
Basarnas spokesperson previously said the plane had been caught in turbulence, attempted to change the course and had crashed into the sea.
Indonesian Ministry of Transportation has not confirmed this information
.
AirAsia Indonesia operates domestic flights within the Indonesian archipelago and international flights to Malaysia, Singapore, Australia and Thailand. The company is an affiliate of the Malaysian company AirAsia. In 2007, AirAsia Indonesia was banned from operating flights to the European Union (EU) due to safety concerns; however, the ban was lifted in July 2010, the BBC reports.