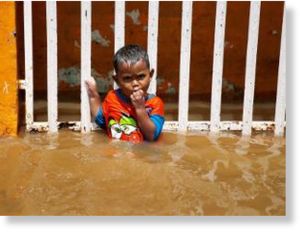 At least 14 people have been killed and 750,000 affected in Sri Lanka due to floods and mudslides caused by heavy rains across the country in the past three days as the air force deployed helicopters for rescue operations in the central hills today.
"At least 14 people are dead while 11 remain missing in Badulla," police said.
Helicopters were deployed after flash floods caused mudslides and several roads were rendered impassable due to incessant rains.
The worst affected was Rilpola town in the central hill district of Badulla
where five people were killed as mounds of earth fell on homes.
The Disaster Management Centre said the number of affected people has gone up to about 750,000 while 17 of 25 administrative districts have been affected.
President Mahinda Rajapaksa has formed a relief committee for victims manned by commanders of government forces.
Sri Lanka Railways said all train services from capital Colombo to the central hill areas of Kandy, Badulla and Matale were cancelled due to the severe weather conditions.
The Meteorological Department said that low pressure has increased into a depression located just off the southeast coast.
Strong winds up to 60 kph are expected and people have been asked to stay away from coastal areas.
At least 38 people were killed in October when mudslides buried homes of tea plantation workers in the country's central hills.