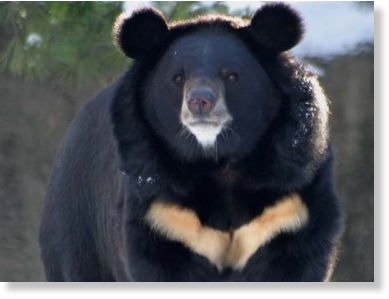 A significant increase has been noticed in the tendency of Asian black bear entering human settlements, damaging crops and attacking humans in Annapurna Conservation Area which is said to be a suitable habitat for the animal, according to a survey conducted by the Annapurna Conservation Area Project (ACAP).
The study carried out a year ago has shown an increase in the incident of bear attacks
, raising questions about security of local residents in the area.
Local people who enter nearby forests in the region to collect fodder are falling victim to bear attacks. Bhadra Bir Nepali, 41, of Parche was attacked last August when he went to collect fodder for his livestock. Likewise, Bal Bahadur Gurung of Dhampus was also seriously injured in a bear attack in the same month.
Researcher Ashok Subedi, who is also an officer at ACAP, said bears were not only attacking people but also found actively engaged in destroying crops. He said more than a dozen people are left injured due to bear attacks over the past four years. "Looking at the trend, we can assume a rise in bear population in the region," Subedi said.
Meanwhile, ACAP has received two complaints regarding people being injured in bear attacks this year alone. Bears are found to disfigure the faces of the victims in frontal attacks.
The injured are provided Rs 50,000 in compensation as per the Wildlife Damage Relief Guideline. Meanwhile, a meeting held under the chairmanship of Prime Minister Sushil Koirala on Monday decided to set up a separate trust fund to compensate families of the victims, injured or deceased and for the loss of plantations as a result of animal attacks.
The Asian black bear are usually found in areas above 1,500-4,000 metres above the sea level.
According to another researcher Paras Bikram Singh, areas from Kobang in Mustang to Sikh, Kharapani, Ghandruk, Landruk, Lwang in Myagdi and lower regions of Manang are deemed suitable habitats for the bears.
Though the Asian black bear does not fall under the list of endangered species in the country, it has been enlisted as endangered wildlife by International Union for Conservation of Nature.
The bears usually feed on bamboo shoots, insects, grass and honey. Though various species of bears are said to be in Nepal, detailed studies are yet to be conducted on them. Researchers, meanwhile, said the bears are being killed by poachers due to ineffective security measures.