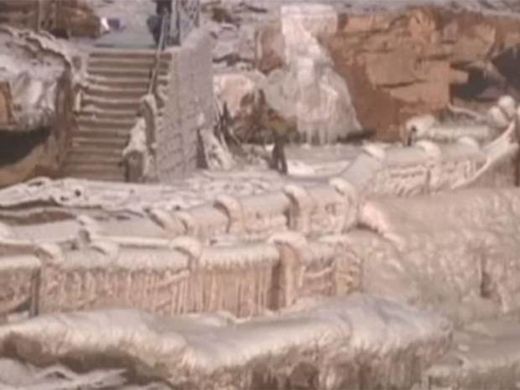 Tourists have been flocking to a section of China's Yellow River in far greater numbers recently as part of the Hukou Waterfall has frozen over in the incredibly cold weather.
With temperatures dropping to as low as -12° Celsius, part of China's second-largest waterfall has become a wall of ice, making it seem like someone has emptied the contents of a fire extinguisher over the entire scene.
The Hukou Waterfall is situated where the provinces of Shanxi and Shaanxi meet and it is roughly 66-ft high.
Located on China's Yellow River - the third-longest on the continent - the waterfall is hugely popular among tourists and the recent cold snap in the area has not deterred many visitors now keen to see the natural phenomenon in its new guise as an ice palace.
One tourist told reporters, "Ice is everywhere. Icicles on the waterfall; everywhere. I did not know the Yellow River could be frozen so it's surprising. I came here specifically for the stunning view of the Yellow River."
While some may be in a hurry to see "Hukou on ice", temperatures in the far west of China may drop even further. Two years ago, the mercury fell to -40° Celsius, so the waterfall could freeze over entirely by the onset of Spring.