Although a direct handout is unlikely,
China might help the Russian economy by boosting funding for projects
, mainland analysts say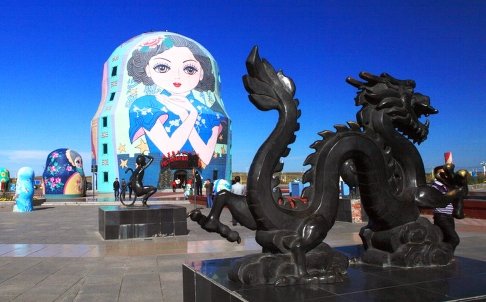 China is preparing to flex its financial strength amid the economic crisis in Russia as it closely watches how the slump of the Russian rouble affects cooperation between the two countries
, mainland analysts have said.
They said Beijing was unlikely to send aid to Moscow, but it would boost infrastructure and investment projects to stop the collapse of the Russian economy, a result that would hurt the two nations' joint attempts to build influence in international affairs.
China and Russia have both described their relationship as reaching a "new stage" after the signing of massive cooperation deals in recent months, including an agreement for Beijing to import 38 billion cubic metres of gas annually, starting in 2019. Companies have already started talks about building the necessary pipeline to deliver the gas.
But a continued drop in the Russian economy could leave Moscow unable to complete the pipeline, and Chinese capital - possibly a concessionary loan - could be required, analysts said.
"This will affect delivery of the gas," said Wang Haiyun, a former attaché at the Chinese embassy in Moscow.
"China will actively consider whether Russia demands more Chinese investment input into the project."
In remarks seen as signaling Beijing's support for Moscow, foreign ministry spokesman Qin Gang said Russia had enough reserves and resources to resolve the crisis.
China and Russia have long sought to present a united front on the global stage, often as a counterweight to the United States.
In a security conference in Shanghai in May, President Xi Jinping and his Russian counterpart Vladimir Putin said they opposed interference in a nation's domestic affairs and the use of unilateral sanctions.
The comments were seen as a veiled attack on Washington, which had levelled sanctions against Moscow for annexing Crimea from Ukraine, and had irked Beijing by strengthening ties with Asian nations in sovereignty disputes with China.
Li Lifan, a Russian affairs expert at the Shanghai Academy of Social Sciences, said a
collapse of the Russian economy would affect China's international standing.
"China will not give up its partnership with Russia because that would definitely affect China's influence in setting its agenda in international governance," he said. "
Both nations need each other, especially in counterbalancing the US
."
Li said Russia expected to lure more Chinese investment and boost exports to China to offset the impact of sanctions. This in turn could boost China's imports of Russian high technology.
Li Xing, a professor of Russian affairs at Beijing Normal University, said
China was deeply concerned about the financial crisis, and would step up investment in Russia's Far East region.