Dinner plate-sized discs made out of frozen foam have been pictured on the river in Aberdeenshire, Scotland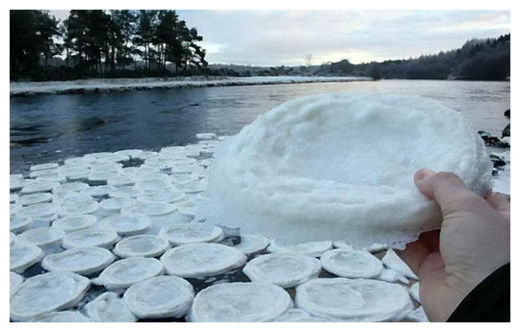 "Ice pancakes" made out of frozen foam have been forming on the River Dee in Aberdeenshire.
The discs, which are roughly the size of dinner plates, were photographed on the Scottish river at Lummels Pool, in Birse.
They are thought to have been formed overnight, when temperatures fall to below freezing, before they rub and bump together to make a roughly circular shape, as temperatures rise during the day.
The phenomenon can happen on rivers or the open sea, but is more usually spotted in the Antarctic, according to experts from the River Dee Trust who made the discovery.
Jamie Urquhart, a biologist at the trust, told the
BBC
: "What we think happened is this: foam floating about on the water started to freeze, probably at night.
"Bits of frozen foam got pushed around in the eddy, and in the ensuing collisions became roughly circular.
"The air temperature rising - being colder at night due to the clear-sky conditions but warmer in the day - means the discs may have grown at night, collecting new foam.
"Then during the day, when the discs softened in the sun, softening particularly around the edges, the collisions raised up the rims."
The discs then increase in size when the process is repeated, Mr Urquhart added.