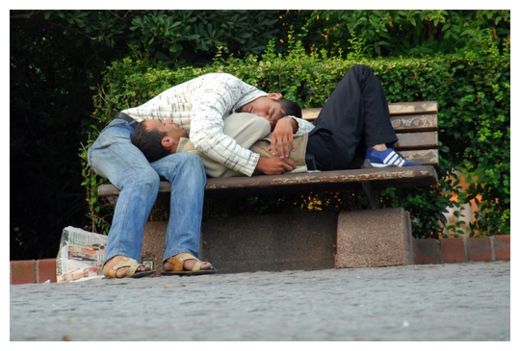 Residents of a small village in Kazakhstan are
falling asleep at random, sometimes for days at a time, and no one knows why.
Since the spring of 2013, the village of Kalachi in the Akmolinsk district (whose name derives from
aqmola
, a Kazakh term that ominously translates to
the
white tomb), 150 miles south of the Russian border, has suffered from at least four outbreaks of the disorder. As of the latest wave, from late
August
to early
September
,
over 60 people, or 10 percent
of the town's population of 680 had been affected. Last week, RT released a documentary on the problem titled
​Sleepy Hallow, Kazakhstan.
Locals told the reporters that they fear one day they'll fall asleep and never wake up again.
Classified as an
encephalopathy
of unclear origin - the highfalutin term for a weird brain disorder we can't figure out - villagers who do not simply keel over while moving or
working report feeling weakness, dizziness, and memory and motor control loss
. At least
two children have reported hallucinations as well
:
Misha Plyukhin saw flying horses and light bulbs, his mother with eight eyes and a trunk, and snakes and worms in his bed, trying to eat his arms; Rudolf Boyarinos cannot remember his visions, but four people had to calm and subdue him as he screamed "monsters!" The sleep is so deep that some locals fear an
old man they assumed was dead
could have been buried alive.