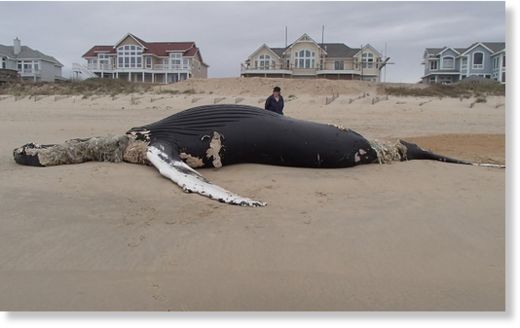 What remained of a badly decomposed juvenile humpback whale washed up off Corolla on Friday, then was swept away by the nor'easter, only to turn up Monday five miles to the south in Duck.
The Outer Banks Marine Mammal Stranding Network received a phone call Friday about a large dead whale floating off the sand bar in Pine Island, according to N.C. Wildlife Resources Commission program coordinator Karen Clark.
"On Saturday the team measured a 34-foot juvenile male humpback whale with severe scavenging," Clark said. "Externally there was nothing indicative for cause of death."
Biologists were going conduct a necropsy on the cetacean and then the carcass was to be buried above the high tide line, but the weather turned, the beach became inaccessible, and the remains were gone by Sunday afternoon.
The next morning, the body of a dead whale was spotted just south of the Army Corps of Engineers Research Pier in Duck.
"A team from the Outer Banks Center for Wildlife Education confirmed that it was half of a humpback whale of the same approximate size and description as the previously sighted animal," Clark said. "The condition of the animal was too decomposed for an external exam but skin was collected for genetics."
Video posted on Facebook by Carolina Designs Realty
showed the whale being buried on the beach Tuesday afternoon.
Humpback whales migrate from the cool waters off New England to spawning grounds in tropical waters.