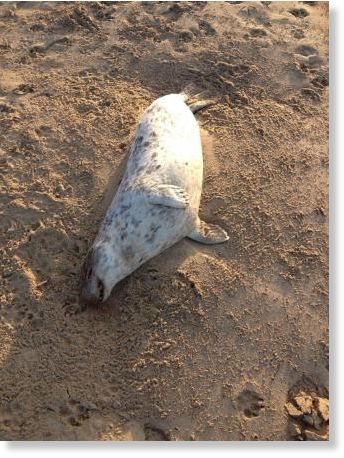 Huge numbers of dead seals have been found stranded on Cornish beaches recently,
and wildlife experts admit they are baffled.
Cornwall Wildlife Trust says it has attended almost twice as many strandings of seals as would normally be expected for this time of year adding that, throughout October and November, 35 dead seals have washed up along the Cornish coastline, and over the same period a further 37 seals have been rescued alive from Cornish beaches by British Divers Marine Life Rescue.
Caz Waddell, from Cornwall Wildlife Trust said: "While bad weather will undoubtedly have been the cause of some of these strandings,
the sheer number of cases has left us slightly baffled.
We don't yet have any answers as to why this is happening, but it shows just how important it is for people to tell us about any stranded marine animal they see. The more animals we can study, the more we can try to get to the bottom of what might be going on."
"Although it would be easy to assume that large numbers of stranded seals might mean we have large populations of seals in our waters, this is simply not the case. Many people don't realise that grey seals are actually an endangered species worldwide, and we are incredibly lucky to have them around our shores. Britain currently has over a third of the entire world's population, and this of course means that we have an international responsibility to help in their protection and conservation."
Sue Sayer from the Cornwall Seal Group added that while surveys by the group have shown that overall seal numbers in Cornwall have been relatively stable over the last eight years, recent strandings have included young adults in their prime.
"If we are losing breeding age adults from the population the implications for future generations could be huge. Whilst it is sadly quite common to find dead pups at this time of year, deaths of adult seals are more serious and we are concerned about the numbers that are dying around our coast", said Sue
"Grey seals in Cornwall are highly mobile, moving internationally around the Celtic Seas. At least two individuals found dead in Cornwall were known to have been breeding seals from the island of Skomer in West Wales, an important Special Area of Conservation for seals. This highlights how important it is to remember the bigger picture. The large numbers of strandings occurring in Cornwall is of concern not just to us locally, but nationally as well."
The Marine Strandings Network coordinates the investigation and recording of all dead stranded animals in Cornwall. Volunteers are sent to each animal in order to gather data about the individual, as well as the state of our marine environment such as incidents of pollution, entanglement in storm-damaged or discarded net, evidence of bycatch, and disease. Where possible animals are sent on to post-mortem to establish how they died.
Niki Clear from the Marine Strandings Network said that at the moment the spike in deaths remains a mystery.
"Further down the line these present trends may be nothing more than anomalies and the situation may return to normal. It's only by gathering information about each case that we can build up a true picture of what is happening. We need to collect as much information as possible from these seals - and in fact from any dead marine animal we find", said Niki.
"It's not just seals that wash up dead along the Cornish coastline. The Marine Strandings Network has also attended over 80 strandings of dead dolphins, porpoises and whales, as well as three turtles, and one basking shark in the last year. In addition almost 2,000 stranded seabirds have been reported, plus thousands of fish and jellyfish.
The Marine Strandings Network is now asking people to help by reporting any stranded dead animal to their 24-hour hotline on 0345 201 2626. Live stranded animals should be reported immediately to British Divers Marine Life Rescue on 01825 765546. The public are advised never to approach any stranded animal.