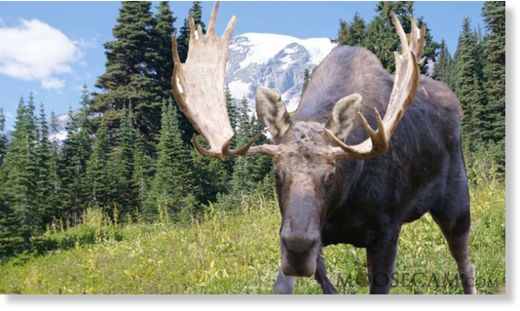 A moose on the rampage attacked two women walking with their dogs, injuring both severely.
The animals can weigh a half ton or more.
"We were just moseying along, hiking, enjoying our hike, and then all of a sudden, I looked up and he was looking right at me,"said Jacquie Boron, 50, who was hiking with her neighbor Ellen Marie Divis, 57, near their homes in Black Hawk, Colo., about 35 miles northwest of Denver.
Boron said the moose grunted and immediately charged toward her, hitting her squarely in the chest and knocking her off her feet.

"I knew that they were aggressive, and I knew that I should be very careful with them," she said. "But I didn't expect them just to charge me."
The moose repeatedly returned to stomp on her,
leaving her with four broken ribs, 15 stitches in her leg and 10 staples in her head.
"He kept coming back for me,
" Boron said. "I had to get away from him."
Boron said she tried to get away by hiding behind a tree and then moved from tree to tree until the moose wandered away.
Her neighbor, who was also injured, managed to escape and call for help. Their two dogs ran off as well but are home now.
State wildlife experts said it's possible the dogs triggered the moose's aggressive behavior.
"They do not like having dogs anywhere near them, so very often they will try and stomp the dog or will actually follow the dog," said Jennifer Churchill, a Colorado Parks and Wildlife spokeswoman.
Boron said she won't be hiking around her home any time soon.
"I think I'll stay away from there as long as I know that moose is back there because they're quiet and they're stealthy and they come up on you," she said. "And you can come up on them so quickly and then they react immediately."
Boron expects to be released from the hospital Tuesday. Divis is in fair condition in St. Anthony hospital in this Denver suburb.
State wildlife officials say the moose population is growing fast in Colorado. A hiker who comes across one should walk away and put something large between the two of you.