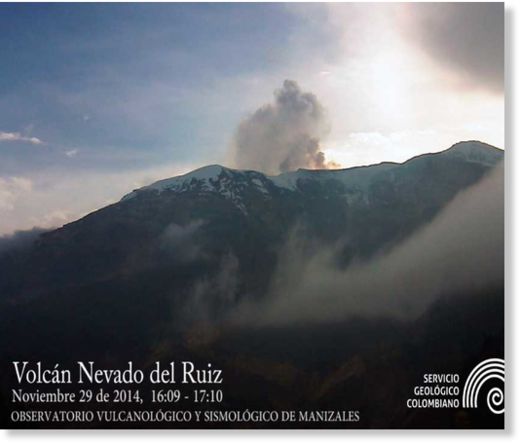 According to the latest report of the Manizales observatory, the volcano's activity recently changed and is showing increased signs of unrest, which
could announce a new eruption to come
.
A recent aerial survey by the Colombian air force revealed a deposit of fresh ash on the southern flank, indicating that at least sporadic explosions or ash emissions - presumably phreatic in nature - do indeed occur.
In addition, since about 2 weeks ago, seismic activity has been significantly higher than previously. Phases of tremor and more frequent shallow volcano-tectonic earthquakes suggest increased movements of fluids (magma, gas, water) inside the volcano. Most of the events are concentrated in an area southeast under Arenas crater.
According to a press article, the volcano observatory considers raising the alert level to orange if activity continues to pick up and the risk of a new eruption increases. Authorities have been advised to prepare for possible evacuation scenarios.
Beatriz Valencia, major of Murillo, the closest town at the volcano, said in an interview that although much progress has been done in the past few years, much work on infrastructure is still needed should a volcanic crisis emerge: there should be more vehicles, roads, and communication facilities (mobile networks are not available in all areas).