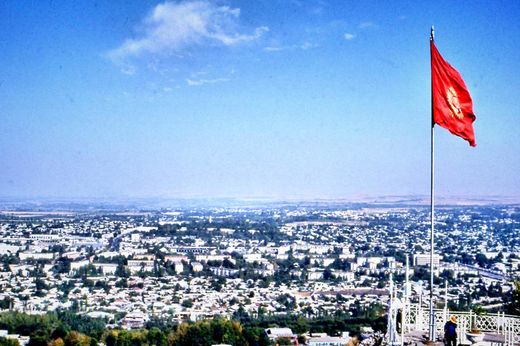 George 'regime change' Soros recently visited Kyrgyzstan, prompting
fears
of a possible
coup d'état
in the country.
"We are against arrival of the billionaire George Soros to our country," the representative of NGO Strong Kyrgyzstan Muratbek uluu Bekbolot defined the aim of the protest, passing near the building of the US Embassy in the Kyrgyz Republic, to 24.kg news agency.

According to him, after his first visit to our country there was a coup in 2005. "Now Soros again appeared, and we suspect that he is planning another revolution in our country. We are for peace in Kyrgyzstan and don't want war. Our country will not survive another coup," he added.
A small group of people gathered in front of the U.S. Embassy in the Kyrgyz Republic, demanding that Soros leave the country immediately. Who can blame them?
"Soros Criminal Conviction Exposes 'Human Rights' Scam"

Soros has built a global empire of networked nongovernmental organizations (NGOs) allegedly promoting "human rights," "freedom," "democracy," and "transparency." His Open Society Institute funds amongst many others, Amnesty International (page 10), Global Voices, and Human Rights Watch. In reality these NGOs constitute a modern day network of imperial administrators, undermining national governments around the world and replacing them with a homogeneous "civil society" that interlocks with "international institutions" run from and on behalf of Wall Street and London. And contrary to popular belief, Soros has built this empire, not against "conservative" ambitions, but with their full cooperation.
And it seems that Soros isn't the only problem, Kyrgyz member of parliament Irina Karamushkina recently
expressed
concerns about activities of American NGO 'TechCamp' in the country.
MP Irina Karamushkina said at today's plenary session of the Parliament of Kyrgyzstan the NGO "TechCamp" is holding meetings with youth in Bishkek, which held similar meetings prior to the Maidan events in Ukraine.

"This NGO has been holding meetings with our youth for 2 weeks already. Do our special services have information about what kind of meetings this NGO is holding? This NGO held similar meetings with youth prior to the events on Maidan in Ukraine. Aren't we wasting time, while someone is shaping views of your youth?" the lawmaker interrogated.
It seems that MP Irina Karamushkina's concerns are not unfounded, as former Ukrainian MP Oleg Tsarov had the following to say about TechCamp activities a few months prior to the coup in Ukraine:
"Tsariov accuses US Embassy of preparations for inciting civil war in Ukraine"

A member of the Party of Regions faction in parliament, Oleh Tsariov, has sent a deputy's request to the Ukrainian authorities to take measures to stop and prevent representatives of foreign countries from interfering in the internal affairs of Ukraine. He said that the U.S. Embassy in Kyiv is promoting preparations for inciting a civil war in Ukraine.

He said this from the parliament's rostrum on Wednesday, the press service of the Party of Regions reported.

"Activists of the Volia public organization addressed me as a people's deputy of Ukraine and provided strong evidence that the TechCamp project is being implemented in our state with the support and direct participation of the U.S. Embassy, as part of which preparations for inciting a civil war in Ukraine are underway. The TechCamp project is aimed at training information war experts and potential revolutionaries to organize protests and overthrow the regime. The project is being implemented under the patronage of U.S. Ambassador to Ukraine Geoffrey Pyatt," the politician said.

Tsariov said that under the guise of teaching the peculiarities of the use of modern media, U.S. instructors are talking about the use of social networking and Internet technologies for purposeful influence on public opinion and the intensification of the protest potential n order to organize protests and radicalize the struggle for power. "As examples American instructors provided the use of social networks for the organization and management of street riots in Egypt, Tunisia and Libya," he said.

He said that TechCamp graduates are conducting subversive activities in Ukraine, openly recruiting like-minded people on the Internet for organizing riots, protests and provocations, while citing the support of the U.S. Embassy in Ukraine.

Tsariov demanded that law enforcement agencies find out whether representatives of the U.S. Embassy in Kyiv violate the United Nations Declaration on the Inadmissibility of Intervention and Interference in the Internal Affairs of States.
Victoria Nuland revealed that the U.S. spent
$5 billion
to "promote Ukraine to the future it deserves." Now we know how part of that $5 billion was spent.
The good news is that Russia has been strengthening its
relationship
with Kyrgyzstan, which has already resulted in the end of American military presence in the region.
While Russia's relationship with Ukraine has been grabbing the headlines, Moscow has been steadily strengthening its foothold in another of the post-Soviet states - Kyrgyzstan.

In the past few years Russia has written off half a billion dollars of the impoverished Central Asian country's debt, pledged to supply the government with weapons and military equipment and taken over its gas network.

The state-run oil giants Rosneft and Gazprom, the subject of new EU sanctions announced last week, have both invested heavily in new energy projects in Kyrgyzstan over recent years.

Significantly, Russian influence resulted in the recent closure of the massive US air base Manas outside the capital Bishkek, marking the end of American military presence in the region.
Recent statements by both the Russian President Vladimir
Putin
and Russian Foreign Minister Sergey
Lavrov
reveal that Russia is well aware of U.S. tactics, and with Kyrgyzstan moving
closer
to Russia, we can be certain that the Kyrgyz government will be well-advised on how to counter U.S. subversive efforts. In other words Uncle Sam is probably in for another disappointment.