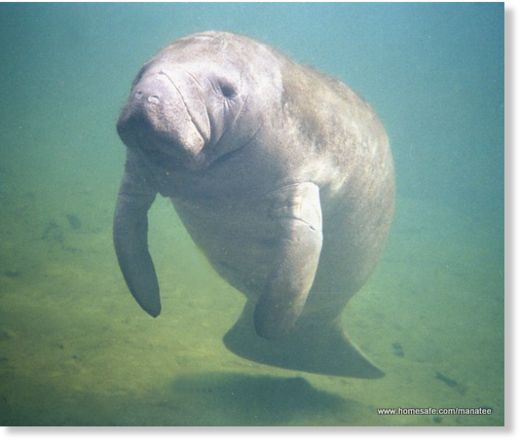 The manatee is expected to be taken to Sea World San Antonio or a Marine Mammal facility in Galveston.
Authorities in Texas said they are working on a plan to assist an unusual visitor --
the first manatee to visit the Houston area in 19 years.
The Chambers County Sheriff's Office said a deputy spotted the male manatee swimming up a channel Sunday near Baytown and barriers were put in place once the sea mammal settled in a spot next to a warm water outlet.
Sheriff Brian Hawthorne said waters in the area are too cold for manatees this time of year.
"The cold water makes them stressed, it makes them really tired, just like if you or I were out in a snowstorm," he told the
Houston Chronicle
.
Experts said they were able to identify the manatee using the scar patterns on his back.
They said the animal usually spends his time in Tampa, Fla., and they are not sure why he made the swim to the Houston area.
Heidi Whitehead, operations coordinator at the Texas Marine Mammal Stranding Network, said her group is working with the U.S. Fish and Wildlife Service and Sea World San Antonio on a plan to relocate the sea cow before temperatures drop too much.
"
He's already showing some signs of cold stress so that is a concern,"
Whitehead said. "Once the water temperature drops below 68 degrees it's too cold for them to survive. It is necessary for us to relocate it."
Whitehead said the manatee could be pulled from the water before the end of the day Tuesday and will be taken to Sea World if it is found to be in good health or a Marine Mammal facility in Galveston if it requires urgent care.
"We will decide how critical he is once we get him out," Whitehead said.
A manatee was previously rescued from waters near Corpus Christi in 2007. The animal was returned to Florida.