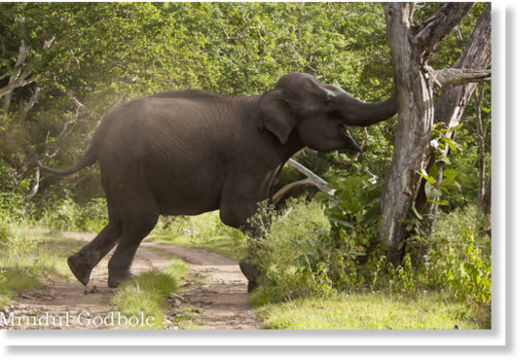 A wild elephant stormed into a crowded pilgrimage town in Sri Lanka on Wednesday and trampled two men to death near Buddhism's most sacred tree, a resident and police said.
Wildlife authorities fired tranquiliser darts to try to subdue the rampaging animal in the town of Anuradhapura, 200 kilometres (125 miles) north of the capital, police said.
The elephant ran past President Mahinda Rajapakse's official residence in Anuradhapura at dawn before crushing a cyclist and a bystander near the holy tree, the Sri Maha Bodi.
"It is very unusual for an wild elephant to go to town like this," a local resident told AFP. "The last time we saw something like this was when a tusker came to the town in 2001 but it did not kill anyone, unlike this time."
Police said it was unclear what sparked the rampage. They have tied the elephant's legs together and were now working with wildlife authorities to return it to nearby jungle.
The tree, guarded around the clock by armed men, is believed grown from a sapling of a tree in India that sheltered the Buddha when he attained enlightenment more than 2,550 years ago.
"The attack was near the Uda Maluwa (upper terrace) police post (of the sacred tree)," said police spokesman Ajith Rohana.
Elephants are considered sacred in Sri Lanka and are also protected by law.
The country boasted 12,000 elephants in 1900 but their numbers have dropped below 7,500 as a result of farmers encroaching on their habitats and killing animals that stray onto their crops.
Source: AFP