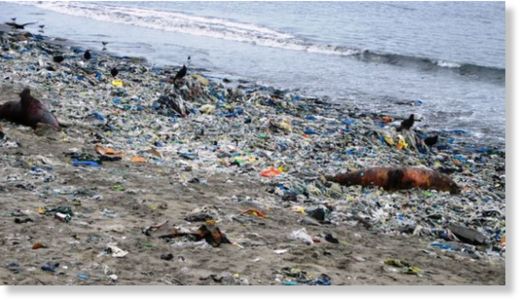 Corpses of the mammals were along the coastal strip of beach
Agents of the Police Department of Tourism and Environment of Chimbote, found a total of 500 sea lions lying dead along the coastal strip of beach Anconcillo Bay Samanco province of Santa, Ancash region .
As detailed by the police, the bodies of mammals were already in a state of decomposition.
The inspection was conducted last Friday and had the support of representatives of the Public Ministry, Ministry of Production and Assistant Manager of Public Cleaning for the locality of Santa.
It was reported that among the 500 dead sea lions were both juveniles and adults.
Personal Cleaning of that provincial town, using loaders proceeded with the removal of the remains of animals from the beach to the dump 'La Carbonera'. This in order to avoid the generation of infectious foci.
Due to the advanced state of decomposition in which the species was found, the authorities have been unable to determine the cause of their deaths. However, they announced that they have begun investigations to find those responsible.
A few weeks ago, Lieutenant Governor of Samanco reported that the sea lions were poisoned by sea farmers in the area.
Trade had already warned about the
appearance of dead seals in Chimbote
, through their reporting system via WhatsApp (51) 947 031 286.