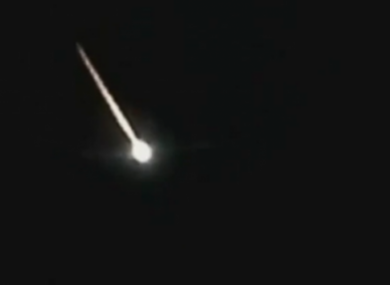 Astronomy Ireland says its received hundreds of sighting reports since Tuesday night - when what was described as a 'giant fireball' was seen blazing across Ireland's skies.
From Cork and Dublin to Belfast and Donegal - the heavenly object was spotted pretty much everywhere.
TheJournal.ie also had quite a few reports on the subject - as did BBC Northern Ireland and a raft of other media outlets.
"Clearly seen falling right to left over the sea towards Drogheda from Balbriggan at around 5.40pm, like a falling star for about 3-4 seconds before it burned out," was how Dubliner Jim Whelan described it.
"My son saw it this evening. He thought it might have been a giant shooting star, a UFO, or molten lava (he's 9 which I think explains the variety of possibilities ;-). He's hugely excited now to think it may have been part of an asteroid."
The phenomenon is believed to have been a 'fireball' meteor - part of an asteroid burning up in the Earth's atmosphere.
And AI's David Moore, speaking to us on Tuesday, was pretty confident it could mean the start of a meteorite-hunt.
"Some of the reports are saying it was 'brighter than the full moon' and that's positive, because it indicates it may be able to survive the burning-up entry process," Moore said.
However, now that all the data is in, it's believed the space rock overflew the country, and landed somewhere in the sea to the north.
"Even people in Donegal were saying it was in the north and very low down - so it looks like it would have come down in the sea," Moore told us yesterday evening.
You can see these generally from around 1,000 kilometres away, so this one, it appears, wouldn't have come down over land.
The last Irish 'space rock' find was in Carlow in 1999. On that occasion, the fragments were sold to a collector for several thousand pounds.
Meanwhile, there's another big night coming up for amateur stargazers - clear-skies permitting, we'll be able to witness a significant display of shooting stars on 13 December.
On the night, there should be "20 times more shooting stars than normal," according to Moore. We might even get a few 'fireballs' too.