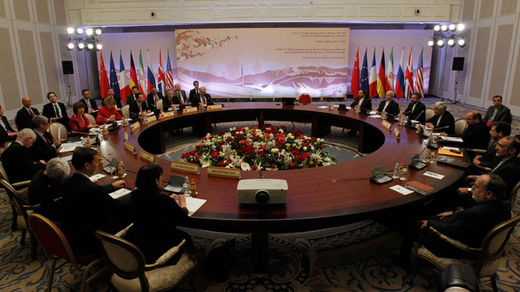 Today, Thursday 20 November, U.S. Secretary of State John Kerry is
set to arrive in Vienna
for talks regarding Iran's nuclear program. A year ago, in Geneva, the P5+1 group (comprising Russia, the U.S., UK, France, China, and Germany) resolved to reach a temporary agreement that would guarantee Iran's peaceful intentions by November 24th this year, and, Iran hopes, lead to the lifting of sanctions. Representatives of each country met in Vienna on Tuesday to, in theory, put the final touches to the deal, with a final round of talks planned for the 23rd.
But there are mixed messages and intentions coming from all sides. U.S. State Department Spokesman
Jeff Rathke said
Washington is willing to suspend the existing sanctions on Iran if a nuclear deal is reached, then terminate them entirely if Iran lives up to its commitments. (Iran, in contrast, wants the sanctions cancelled outright as soon as the deal is signed.) But any agreement reached may leave Obama in a pickle.
Taking the lead in a US Senate threat to block any Iranian nuclear agreement are Senators Robert Menendez (Dem.) and Mark Kirk (Rep.) who are demanding that Iran must totally dismantle its nuclear program in order for the U.S. to even consider reversing sanctions. Last December the two 'hard-ass' senators
introduced a bill
that called for
increasing
sanctions on Iran rather than lifting the existing ones.
It should come as no surprise that Menendez is known as
"a bulldog for Israel"
and a firm supporter of
arming Syrian terrorists
. Kirk is Netanyahoo's
"biggest advocate in Congress"
, his staff
teeming with Zionist stooges
. And AIPAC contributed almost $1,000,000 to Kirk, and almost $350,000 to Menendez
in the years 2007-2012
. So it should be fairly obvious who they're really working for, and who is behind the whole "Iran wants to build a nuclear bomb" farce.
As usual, Russia seems to be the only state interested in actually finding a rational solution to the 'situation'. With Kerry set to arrive (and
Lavrov planning to arrive
only if actual progress gets made), Russia's Deputy Foreign Minister Sergei Ryabkov is already holding
a bilateral meeting
in Vienna with Iran's DFM Abbas Araghchi. Ryabkov also spoke with Israeli Foreign Ministry Deputy Director General Jeremy Issaharov
on Tuesday
.
Naturally, Iran
wants to reach a deal
by the deadline, not wishing to prolong negotiations. After all, it has been on the receiving end of the U.S. and Israel's stupidity-cudgel for over 10 years. Just where do the accusations come from that Iran has a nuclear weapons program, anyway?
The original evidence, passed on to the IAEA by the U.S., was ignored on account of its obviously
dubious nature
and provenance. It was only after two documents 'came to light' that the anti-Iran campaign went into high gear, despite the fact that
a U.S. National Intelligence Estimate concluded that Iran had stopped weapons research in 2003
and by 2008, had resolved all concerns brought up by the IAEA as regards its nuclear program.
Those two documents were subsequently exposed as having been forged by the Israelis.
The cold, hard reality here is that
there has never been ANY conclusive evidence that Iran has sought to develop a nuclear weapon
, as investigative journalist Gareth Porter makes clear in his book
Manufactured Crisis: The Untold Story of the Iran Nuclear Scare
.
Israel managed this information coup via its proxy "Iranian opposition", the MEK. Niall Bradley has written a great piece on them
here
. Excerpts follow:
Specifically, the US officials stated that Israel's Mossad was financing, training and arming an Iranian dissident group that goes by many names, but which we'll call the People's Mujahedin of Iran (MEK) for now. In return,

the MEK is "providing Israel with information."

Speaking through NBC, these unknown officials confirmed what Larijani and the Iranian government have been saying for years: that Israel, through the MEK, carried out the attacks in which motorcycle-borne assailants attached sophisticated magnetic bombs to the exterior of the victims' cars. The US officials further stated that the Obama administration is aware of the assassination campaign but has no direct involvement.

...since the fall of Saddam Hussein's regime in 2003, the duplicitous MEK has been busy selling the world the Iranian equivalent of the Big WMD Lie. Undoubtedly with the connivance of the CIA.

It was

the MEK

who told the Bush White House that Iran was secretly building nuclear weapons

. That's right, the incessant barrage of propaganda about Iran's intentions vis a vis its nuclear program stems from false information provided to the Bush administration by this vehemently anti-Iranian organisation. In fact, at least 20 'startling revelations about Iran's nuclear weapons program' in the past 10 years have all come through the MEK. In case you were wondering, that's exactly how the rationale for the invasion of Iraq was manufactured: through the peddling of baseless claims by Iraqis in exile with a power lust disguised as personal grudge.
MEK also made a 'new' claim about Iran's nuclear weaponisation research
right before the October 2013 P5+1 talks
. Pushing for a violent overthrow of the Iranian government, MEK has a natural revulsion to any and all forms of peaceful diplomacy (they have that in common with the U.S. and Israel).
In fact, according to Porter, it looks like it was Israel who provided the fraudulent documentation to MEK in the first place. (Disguising their culpability by using a third party middle-man to take the blame is old-hat for Israel's Mossad.) As Porter said in a
recent interview
:
PORTER: And around the same time, the Israelis then had a brilliant idea, which was that in the absence of any proof that they could come forward with to show that Iran was, you know, trying to get nuclear weapons, they would create a file of documents, a cache of documents, which would be attributed to a covert nuclear weapons program on the part of the Iranians. They would give it to the Mojahedin-e-Khalq, the terrorist organization, so-called—, not just so-called, but listed as a terrorist organization, with good reasons, by the State Department and other European countries. And then that would be passed on to Western intelligence, ultimately to be used to make the public case by the United States [crosstalk]

JAY: How do we know that the documents the MEK handed over came from Israel?

PORTER: Well, that's what I'm getting to, because that's the major revelation in my book. I learned this from a former senior foreign office official in Germany named Karsten Voigt. He was in charge of coordination of German-U.S. relations and had been since 1997, until he retired in 2010. He was the only person who had held that position all that time. And I interviewed him in March 2013. He told me that in November 2004, after Colin Powell had made a public statement basically invoking this information from these documents without mentioning them specifically, and talked about Iran trying to mate a missile with a weapon, the BND, the German intelligence service, got in touch with him, and they were quite alarmed about this, because, they said, we know all about these documents; they came from one of our sources, who was somebody that we didn't really trust; we knew he was a Mojahedin-e-Khalq member. And therefore they did not think that this source was trustworthy. And so now they find Colin Powell invoking this information, looking like he was trying to build a case for war against Iran. And, of course, only two years earlier the same thing had happened on Iraq. The BND had a source, now known as Curveball, who had made up these stories about mobile bioweapons labs that Colin Powell had then used in the UN speech. So they were afraid that the Bush administration was going to do the same thing on Iran that it'd done on Iraq. And so they were alarmed. And they were going to him because he was the U.S. guy in the foreign office. They told him about this, and he understood from this that they wanted him to do something to warn the Americans.
So it will be interesting to see what deal, if any, comes out of the Vienna talks, or if Israel will manage to sabotage them in some way. Will Russia manage to broker a solution like they did with Syria's chemical weapons?
But to put all this in context and show how ridiculous the whole situation is, keep in mind that all this is going on while Ukraine gets away with using
cluster bombs, ballistic missiles, and white phosphorus
in Ukraine. The U.S. has given their full support to Kiev despite all the reports of war crimes committed by Kiev's forces (including summary executions, rape and torture), and continues to chastise Russia for "arming the rebels" and "escalating" the violence. Pardon me, but it's been Kiev doing the escalating.
It's unlikely that anything will come of it, but the UN just released a report on Kiev's use of cluster bombs, saying:
The reports on the use of cluster munitions in the hostilities in both urban and rural areas are a matter of concern. Due to their wide radius and indiscriminate impact, their use in areas with a civilian presence

would constitute a violation of international humanitarian law and may amount to a war crime

.
And yet Iran has suffered years of sanctions because of a non-existent nuclear weapons program. Talk about double standards.