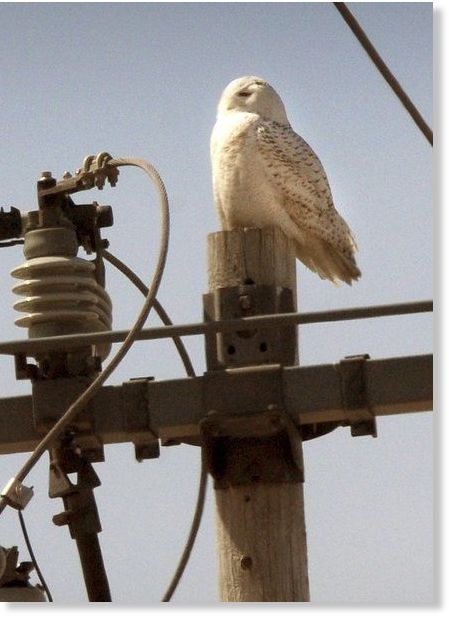 After a banner season last winter, the snowy owls are back."These animals are constantly moving around and they don't stay around very long," Parker River National Wildlife Refuge visitor services manager Matt Poole said. "You may hear that there is a snowy owl or a pair of snowy owls that have been seen on Plum Island for maybe a week but it is very possible that those are not the same individuals. They come in and they move through, maybe moving further south to where they are finally going to be for the winter. But if they leave, there may be more animals coming in behind them."
The powerful raptors made wildly popular in the
Harry Potter
novels and films, have already been spotted and photographed at the Parker River National Wildlife Refuge this week."It is typically not a resident bird, if you will," Poole said. "They are a very popular winter bird in this area. They are something that all the birders hope will be around. Given the huge number of them last year, contrast that with the year before when as far as I know there was only one sighted the entire winter. It is highly variable."
While exact numbers are not known, snowy owls were spotted in the area regularly from November of last year through May of 2014 and with their return this month, birders are hoping for another big year. But each year is different for the nomadic bird, said Poole.
"It is highly, highly variable," Poole said.
"Last year we had a banner year and had snowy owls all over the place. Some of the highest numbers on record.
And of course, people these days, through social media, are interconnected so the minute either a birder or a photographer becomes aware of a snowy owl, the word spreads like wildfire."
Hailing from the northern polar region, snowy owls have been known to travel as far south as Florida depending on the food source.
"They are an amazingly powerful predator," Poole said. "They like the cold and come down from the Arctic but are not limited to one location."
With an impressive wingspan that can reach up to 59 inches, Poole said that snowy owls prey upon small rodents and even other birds like ducks. Lemmings are a staple of their diet. Although birders and nature enthusiasts should enjoy the owls' annual visit, Poole also said they should avoid disturbing the birds.
"You want to respect their space," Poole said. "If you are watching, and certainly if you are getting closer toward an animal that you are photographing or watching, the minute that it shows an amount of stress or disturbance, that is the point at which you need to stop and back off."