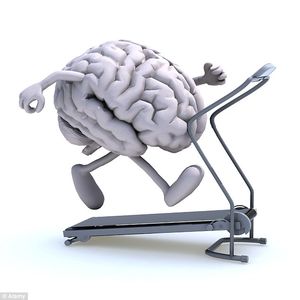 Brain training computer games designed to boost the mental ability of elderly people are a waste of time and money, scientists have warned.
Companies which make handheld gadgets and games consoles have created a £640million global industry aimed at baby boomers entering their twilight years
.
They claim to stimulate the brain, improve cognition and boost memory - and have in recent years been advertised by actors such as Nicole Kidman and Julie Walters.
Previous research has even suggested that engaging in challenging mental activities can lower the risk of dementia.
But a University of Sydney study published last night found that self-directed brain training conducted at home had no beneficial effect.
While
regular computerised cognitive training conducted under trained supervision was seen to be effective at improving memory and spatial awareness, the same impact was not seen if undertaken with no supervision.
Professor Michael Valenzuela, whose study is published in the journal PLOS Medicine, said: 'Our results send a key message to the public.
'
They show that brain training carried out in a centre can improve cognition in older adults
, but commercial products promoted for solo training use at home just don't work. There are better ways to spend your time and money.'
The research team combined outcomes from 51 randomised clinical trials, including almost 5,000 participants.
Professor Valenzuela said: 'This is a very large number of clinical trials and the results were conclusive.
'We now understand how to prescribe brain training based on the highest standards of medical evidence.'
Dr Amit Lampit, who co-wrote the paper, said: '
Training one to three times a week was effective,
but training more than this neutralised any cognitive benefits.
'The brain's plastic mechanisms may saturate if training is too frequent. Like strenuous physical exercise, we recommend at least one rest day between training sessions.'
Previous research by psychologists from London Metropolitan University suggested just 15 minutes a day spent on brain training exercises could assist the growth of new brain cells, helping those with memory problems.