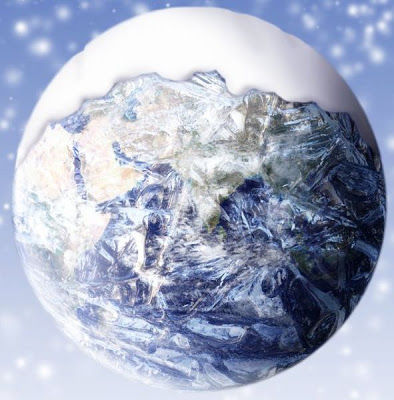 With nasty cold fronts thrusting an icy and early winter across the continental U.S. - along with last winter described by
USA Today
as "one of the snowiest, coldest, most miserable on record" - climatologist John L. Casey thinks the weather pattern is here to stay for decades to come.
In fact,
Casey, a former space shuttle engineer and NASA consultant, is out with the provocative book Dark Winter: How the Sun Is Causing a 30-Year Cold Spell, which warns that a radical shift in global climate is underway, and that Al Gore and other environmentalists have it completely wrong. The earth, he says, is cooling, and cooling fast.
And unless the scientific community and political leaders act soon, cold, dark days are ahead. Casey says the evidence is clear that the earth is rapidly growing colder because of diminished solar activity. He says trends indicate we could be headed for colder temperatures similar to those seen in the late 1700s and early 1800s when the sun went into a "solar minimum" - a phenomenon with significantly reduced solar activity, including solar flares and sunspots.
If he's right, that would be very bad news.
Dark Winter
posits that a 30-year period of cold has already begun.
Frigid temperatures and the food shortages that inevitably result could lead to riots and chaos.
Casey tells Newsmax, "All you have to do is trust natural cycles and follow the facts, and that leads you to the inevitable conclusion that the sun controls the climate, and that a new cold era has begun." Casey is president of the Space and Science Research Corp., an Orlando, Fla., climate research firm. His new book debunks global warming orthodoxy. For more than a decade, he reports, the planet's oceans have been cooling. And since 2007, the atmospheric temperature has been cooling as well.
"The data is pretty solid," Casey says. "If you look at the 100-year global temperature chart, you look at the steep drop-off we've had since 2007.

It's the steepest drop in global temperatures in the last hundred years."
So how can the media and scientific elites make a case for global warming when it's actually cooling? Casey suggests climate-change theorists have simply wedded themselves to the wrong theory - namely, that global temperatures respond to the level of greenhouse gases in the atmosphere.
Any scientist suggesting otherwise is castigated as a heretic
, though there are other prominent scientists who support Casey.
Noted Russian astrophysicist Habibullo I. Abdussamatov has argued that a new mini-ice age has begun, though Casey doesn't go that far. He does agree with Abdussamatov that the real driver of global climate is solar activity, namely sunspots. These correspond to shifts in global temperature with a greater than 90 percent accuracy, he says. The environmental left focuses instead on ever-rising greenhouse emissions, suggesting nature is just taking a bit of a breather before the upward march in temperatures ineluctably resumes.
"There are two fundamental flaws with that," Casey says. "No. 1, the greenhouse-gas theory, and the global climate models that they produced, never permitted a pause. As long as CO2 levels were going up, the only thing that could happen was global temperatures could go up. That has not happened.
"No. 2, there could absolutely be no cooling, much less a pause. And yet we've been cooling for 11 years now."
The recent polar vortex that sent temperatures across the Midwest plunging to sub-zero records is not an aberration, Casey says. If
Dark Winter
is right, that means the nation is busily preparing for the wrong calamity.
"We don't have 10 years," Casey warns. "We've squandered during President Obama's administration eight years ... and we didn't have eight years to squander."
The worst of the cooling cycle, Casey predicts, will hit in the late 2020s and the early 2030s. Food riots will break out, demand for heating oil will spike, and the failure of the corn crop will put the squeeze on ethanol. He even predicts the United States will ban agricultural exports to feed its own citizens.
Story continued on Newsmax