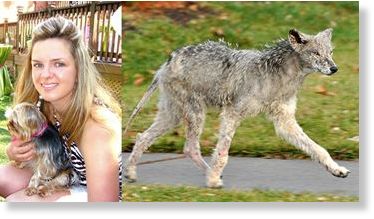 Another family dog was attacked and killed in Mississauga during another suspected coyote attack last Friday (Nov.7) - this time just a few feet from its owner and while on a leash.
This latest attack comes on the heels of a string of unusual attacks across the GTA that have resulted in the deaths of two small dogs in Mississauga and injuries to two people who were bitten in a Brampton neighbourhood in a matter of weeks
Rafal Kubat was walking his family's two dogs on the sidewalk near their home at Westbridge Way and Financial Drive at around 9 p.m. Friday night when an animal believed to be a coyote charged at him and mauled and ran off with Gucci, one of the family's two Yorkshire Terriers.
Kubat did his best to get the dogs - both of whom were on leashes - out of harm's way, but was knocked down in the attack. He tore his ACL and now requires surgery
"My husband turned around to head home and saw the (coyote) running at him at full speed down the street and was not stopping. He retracted the leashes as fast as he could and tried to make for the middle of the street to stop a car. When the wolf attacked they all fell," said Kubat's wife, Maggie.
After being knocked down, Kubat says her husband watched helplessly as the animal grabbed Gucci, ripping the dog from its leash and making off with it towards the green space surrounding the nearby Hwy. 407.
The night before, Jasmine Bajaj was bitten in the leg when another suspected coyote snuck up behind her and grabbed her by the leg in the driveway of her Brampton home, not far from the area where Friday's attack occurred.
Animal services confirmed that another person was bitten in the neighbourhood at the end of September.
"If there are biting incidents (involving people), that most definitely is a red alert. At that point a full investigation needs to be done in the particular location," said Lesley Sampson, founding executive director at Coyote Watch Canada.
Just two weeks ago, a 9-year-old Chihuahua named Chico was attacked and killed by a pair of coywolves just metres from its owner, Nina, at the end of her driveway in Lorne Park - bringing the total of brazen attacks in Peel to three within a matter of a couple of weeks.
"My two dogs were on my property about 20 feet away from my front door ... I saw a large animal run by on the street and the dogs started barking. I yelled at my dogs to get back in the house and was able to get the first one inside, but the second dog was just snatched up and had its neck snapped right in front of me," said Nina.
According to Mississauga Animal Services education officer Linda Dent, there have been four reported incidents involving Eastern Coyotes and small dogs this year in Mississauga.
"In three of the instances, the dogs were off leash and one unfortunately slipped out of a harness according to the information that we have been provided," she said.
The City of Burlington has also issued an advisory to residents following a series of attacks on dogs in that city, including one that was caught by a home security camera. The frightening footage shows the coyote running up and grabbing the dog while tied up on a leash in the backyard, then shaking it violently before dropping it after the owner scared it off.
Experts and officials are calling the attacks unusual, both in nature and in number, as coyotes generally avoid close contact with humans.
Kathy Duncan, manager of Animal Services in Brampton, says there is no real means of tracking the animals' numbers. She says, however, there is no evidence of a population increase.
Also, while attacks on pets are common, attacks on people are exceedingly rare. According to Toronto Wildlife Centre executive director Nathalie Karvonen, there has been only one confirmed coyote attack on humans in Toronto's history.
Sampson and Karvonen say that when this kind of behaviour presents itself, it's almost always as a result people feeding the animals, which lowers the coyote's natural fear of humans.
"That kind of demand behaviour doesn't escalate over night. When food is introduced as the reward, coyotes actually increase their proximity tolerance to humans," said Sampson. "This is an escalated situation but it can be de-escalated very easily."
Residents in the Brampton neighbourhood where the two people were attacked have sent a petition signed by over 50 people who live in the area demanding that the City remove the animals.
However, Brad White, a professor of genetics and biology at Trent University who has studied the animals for over a decade, says that culling or relocation programs are largely ineffective, as those removed are quickly replaced due to the species' numbers and adaptability.
While the City of Mississauga has posted signs and issued warnings reminding residents to keep their pets on a leash, Brampton has gone one step further by placing live traps in an attempt to catch the animal or animals responsible for biting humans near Mississauga Rd. and Steeles Ave.