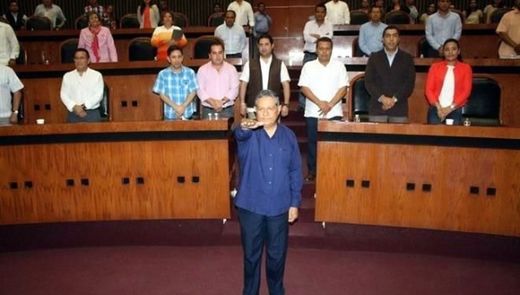 Silviano Mendiola is the third mayor in two months in Iguala, the city where the 43 Ayotzinapa students went missing.
More than 40 days after the former mayor of Iguala, Jose Luis Abarca. fled the state of Guerrero apparently due to his involvement in the disappearance of the 43 students of the Ayotzinapa Teacher Training College, the troubled municipality has a new leader.
The Congress of the southern state of Guerrero appointed on Tuesday Silviano Mendiola as the new acting mayor of Iguala. Mendiola Perez was one of the candidates elected by Governor Rogelio Ortega.
Mendiola's designation follows the fleeting seven-hour-long mandate of Luis Mazon, who was appointed after Abarca fled, but resigned the same day.
The political crisis in Iguala is due to the violent incidents that took place the night of September 26, when local police shot at several buses in which the Ayotzinapa students were traveling in, killing three of them and another three civilians.
Then, according to authorities, the policemen "arrested" 43 students and handed them over to the local drug gang known as United Warriors.
That gang, said the Mexican Attorney General, is controlled by the former mayor of Iguala, Abarca, and his wife, who were recently arrested at a house in southern Mexico City, where they were hiding out. They are accused of masterminding the violent incidents of September 26, that have sparked national and international condemnation and protests.
Mendiola, who was sworn in by the state Congress on Tuesday as the new Iguala mayor, is expected to travel soon to Iguala to take office accompanied by a commission of local lawmakers.
Also on Tuesday, the Argentine forensics team appointed by the relatives of the missing 43 announced that the bodies found inside several mass graves do not belong to the students, contradicting Attorney General Jesus Murillo Karam, who last week said that all indicated that those remains belonged to the students.