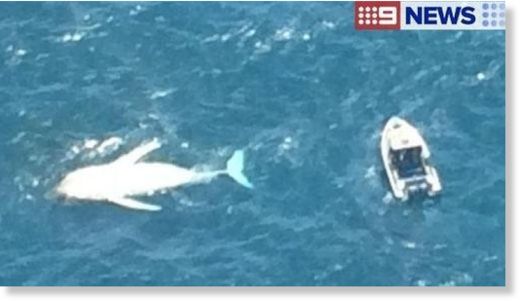 A humpback whale carcass is being towed away from the Perth coast after attracting several sharks.
Department of Fisheries spokesman Phil Shaw said sharks were feeding from the dead humpback whale, measuring more than 10 metres in length.
It was first spotted by the crew of a vessel returning from Rottnest just before 10am on Monday when it was five nautical miles off the coast.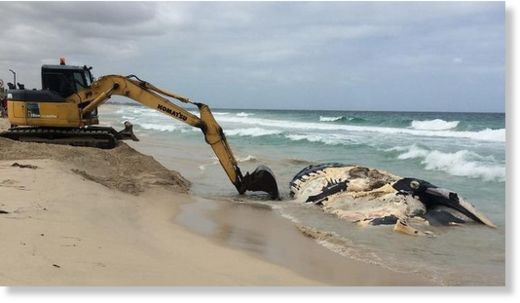 The carcass will probably be towed out about 20 miles, depending on swell conditions and available light.
It may break up and drift back towards the coast, Fisheries warned.
Mr Shaw said it was possible the whale carcass would continue to attract sharks.
People are being told to adhere to any beach closures, report shark sightings to Water Police and regularly check the Surf Life Saving Twitter account.
Seven News reporter Geof Parry had earlier tracked the whale remains from a helicopter and said the carcass was headed for Perth.
"I don't think there's any doubt that it will head to the coast by the way this swell's running," he said.
"It's proving quite a meal for several sharks. We've just seen the arrival of a great white, it's a big great white. I believe the whale is the same as the one from last week, a humpback.
"It's a similar size. But there's no doubt it's floating towards the coast."
The WA government continues to face criticism over its handling of the last whale carcass to wash up in Perth.
A spokeswoman for the City of Stirling confirmed the
removal of the whale carcass from Scarborough Beach
last week cost ratepayers $170,000.
The operation to remove the whale remains, dubbed 'Operation Free Willy', "was executed with military precision," according to City of Stirling Mayor Giovanni Italiano.
"However, leaving ratepayers with the clean-up bill is not acceptable in my book and we will be seeking cost recovery from the state government as well as insisting they develop an urgent mitigation strategy in consultation with all other involved agencies," Mayor Giovanni Italiano said.
The Department of Parks and Wildlife said
towing carcasses out to sea was not the solution.
The City of Stirling spokeswoman said that if the latest carcass also washed up on Scarborough beach "we won't be very happy".
"We're calling on the authorities involved to deal with this issue," the spokesperson said.
"We don't believe allowing a whale carcass to drift out at sea and wash up on the beach is an adequate or safe solution.
"It does create danger to beach goers. We also have to consider health issues. If you've got a drifting whale that has a host of sharks hanging off it, it will attract sharks to the beach.
"At this point the beaches are open.
"If the tide brings it in, closure of the beach will need to be considered [for] whichever beach it's closest to."
Natalie Banks, chair of the community group No WA Shark Cull Inc, said drifting whale corpses were part of "a natural occurrence".
"As we see the whale migration ending we are seeing sick and diseased whales that are being followed by the sharks," she said.
"We ask that the community be vigilant in terms of shark activity, especially at this time of year."