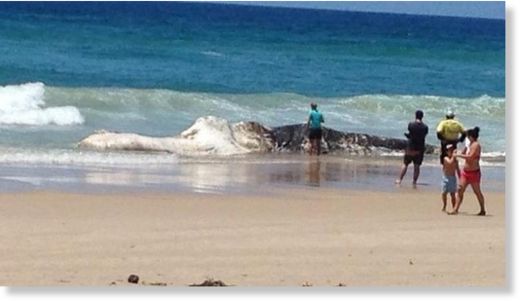 Council workers are in the process of removing a whale carcass that washed up on a Gold Coast beach overnight.
The whale's remains were spotted on The Spit early on Sunday morning, near Philip Park.
Lifeguard Anthony Lunney said the dead whale appeared to be a juvenile humpback, which measured about 20 metres in length.
"Unfortunately this one has floated up on to the beach, probably with last night's high tide," he said
Mr Lunney said it appeared a number of sharks had feasted on the carcass before it washed ashore.
"There are a few good chunks out of it," he said.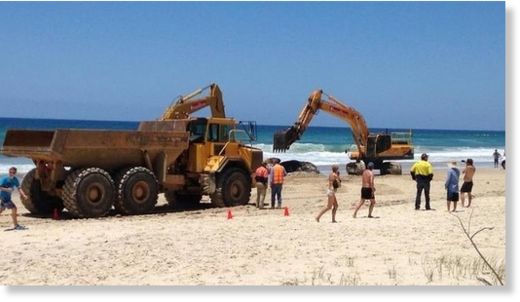 A crowd of curious onlookers gathered on the beach, but the stench of the whale's rotting flesh was too overwhelming for some.
"The smell is keeping the crowds at bay, that's for sure," Mr Lunney said.
There were reports a four-metre bronze whaler shark was spotted about 40 metres offshore early Sunday morning.
Mr Lunney said the carcass would undoubtedly attract more sharks to The Spit if it was not removed.
Gold Coast City Council officers arrived at the beach with earth moving equipment about 10.30am on Sunday to remove the whale.
It is understood the animal's remains will be taken to landfill.