The snowstorm unfolding across the northern Rockies will spread a swath of snow to Minneapolis and the upper Great Lakes through the first part of the week.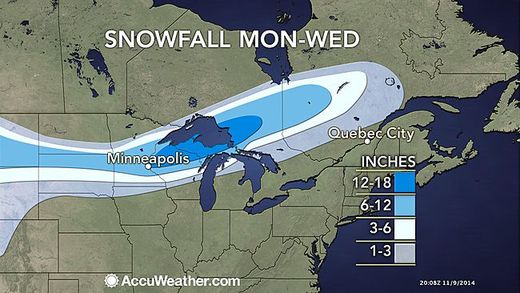 Before reaching the Great Lakes, the system is expected to deliver snow from the
Rocky Mountains to the northern Plains
with accumulating snowfall reaching as far south as Denver.
The snow will then begin to build into the northern Great Lakes, moving into the region on Monday and continuing into Tuesday night.
Due to the path of the storm, it appears as though some of the bigger cities around the Great Lakes, such as Chicago and Detroit, will miss out on the snow.
The heaviest snow is expected to focus on a zone stretching from northern Wisconsin to central Ontario. A foot or more of snow will fall over this area with localized pockets receiving as much as 2 feet of accumulation.
Gusty winds also accompanying this storm will result in blowing and drifting snow.
While blizzard conditions are not expected, winds gusting up to 30 mph can greatly reduce visibility, resulting in major travel disruptions.
This wind will also cause AccuWeather.com RealFeel® temperatures to be held to the teens and single digits on Monday in places such as Minneapolis, making it dangerous for people to spend extended periods of time in the outdoors without wearing proper clothing.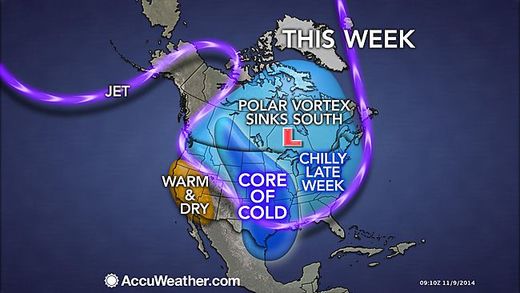 Along the southern fringe of the snow, rain and/or sleet will mix in and hold down amounts.
A
blast of frigid arctic air
is set to dive southward into the Plains and the Midwest in the wake of the snowstorm, keeping temperatures as much as 30 degrees below normal.
This cold air blowing over the comparatively warm waters of the Great Lakes can cause lake-effect snow to develop downwind of the lakes, adding to snowfall totals Wednesday and Thursday.
Despite all of the negative impacts that this storm will bring, there will be some positives.
Ski resorts across the region will benefit from snow, allowing for some early season skiers to hit the slopes.
The cold air following the storm will also allow for ski resorts to utilize their snow-making machines, adding even more snow to the slopes for early season skiers.
Those planning to go skiing or snowboarding should check AccuWeather.com for the latest
ski conditions forecast
.