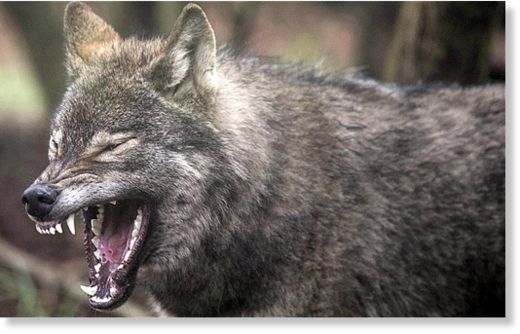 At least one male wolf has permanently settled in Jutland, Denmark, scientists say, in first case since 1813
Wolves have returned to Denmark for the first time in 200 years, according to researchers.
When wolves last roamed wild in Denmark, Napoleon was still terrorising Europe and the Battle of Waterloo had yet to be fought.
But now a team of researchers say they have conclusive evidence that wolves have re-established themselves in much of the Jutland peninsula, the part of Denmark that is in mainland Europe, and that at least one male wolf has permanently settled there.
There have been sporadic sightings of wolves in Jutland since 2012, but this is the first time scientists have officially confirmed their return.
A team of researchers from Aarhus University and the Danish National History Museum studied locations where wolf DNA was found and where wolves were photographed in the wild.
By analysing DNA traces they were able to show that a particular male wolf was detected seven times in the same area in 2013. Wolves are considered to have settled in an area if they are seen there twice in six months.
"That is most certainly the case with this wolf, which means we can say that we have our first evidence that the wolf is settled in Denmark," Liselotte Wesley Andersen, a senior researcher at Aarhus University, told Denmark's national broadcaster, DR.
Wolves once roamed across Europe, before their numbers were heavily depleted in the 19th century.
They have been making a recovery since the 1950s, and wild populations have re-established themselves in a number of countries, including France, Germany, Norway and Sweden.
When a wolf was spotted in Denmark in 2012, it was the first sighting since 1813. But researchers caution that so far they have only found DNA traces of male wolves resident in Denmark, and have not been able to locate any traces of females or cubs, despite numerous claims of sightings of a wolf pack.
"We're hoping for a snowy winter so wolf tracks can lead us to further documented finds," Thomas Secher Jensen, a senior researcher with the Natural History Museum, told DR.