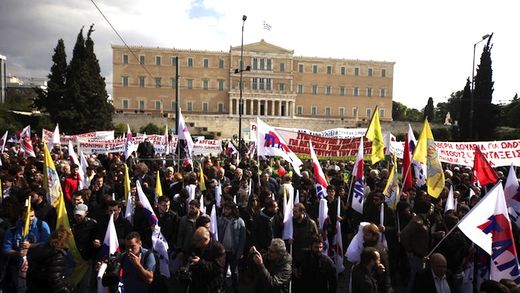 Thousands of people demonstrated
against the Greek government's austerity policies
in the center of Athens on Saturday. They also called for political and economic reforms, pay rises, and other social benefits.
The protesters gathered at the landmark Syntagma Square, located just outside Greek parliament, and marched through the center of the city carrying anti-EU and anti-austerity banners.
The march was organized by the All Workers Militant Front (PAME), a coordination center for the Greek trade union movement, which is closely connected to the Communist party. Aside from rejecting austerity measures,
the group calls for a 751 euro (US$940) minimum monthly salary, 600 euro ($751) unemployment benefit, free healthcare, the return of Christmas, Easter and summer bonuses, and the abolition of the single property tax
(ENFIA), as well as other extra taxes that eat up family income.
One group of protesters commented on the 'sickness' of the Greek economy by dressing as doctors and attaching a makeshift 'euro' intravenous drip to a mannequin covered in a white sheet.
"Resistance, struggle and popular alliance is the solution for stable and permanent jobs for all, as well as the elimination of tax-robbery and recovery of the recent years' losses," Greek Communist Party (KKE) leader Dimitris Koutsoumbas told Greek Reporter news portal.
He also said they will meet again on November 27 at the nationwide strike and called for "struggle in order to open the way for the people's interest and the country's future."
There have already been several rallies in Athens against austerity and welfare policies imposed by the Greek government, the European Union (EU), and the International Monetary Fund (IMF) in previous months. Greece has been at the center of the European debt crisis and has been forced to implement numerous austerity measures in order to receive international credits.