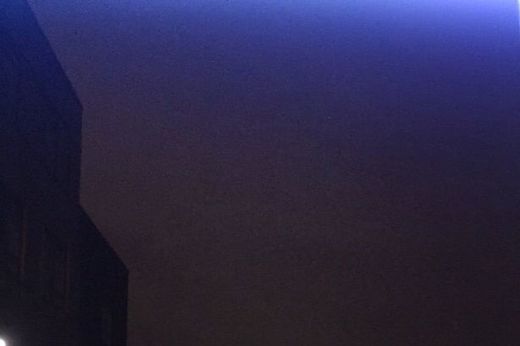 Mystery continues to surround
phantom lights that appeared in the skies over Rochdale
last week.
As featured in Wednesday's Rochdale Observer, strange flashes of blue and green were spotted in the skies, power went out and homes were left without electricity during the curious episode last Thursday evening, October 23.
Some people also reported hearing a loud bang, while others thought they had seen an object shoot into the sky.
And social media users have come up with all sorts of explanations for the events, from fireworks to a solar flare, the Northern Lights and even alien activity.
The lights were spotted above homes over Rochdale, Norden, Littleborough, Newhey and Whitworth, with many
residents noticing their own lights flickering, a temporary loss of power, flashes and the triggering of burglar alarms.
Some people thought the phenomenon was caused by an electricity sub-station blowing but Electricity North-West could not explain the unusual activity, its log showing only an underground cable fault at 7.42pm on the night, which left around 100 homes without power for around two hours.
Readers took to the Rochdale Observer Facebook page to give their own theories.
Stephen Brame suggested a
powerful solar flare from the sun earlier in the week caused the unusual effect after interacting with the Earth's magnetic field
.
Gavin Alexander Rushworth attributed the activity to a transformer blowing up, while others assumed the incident was caused by fireworks.
Deborah Whitehead posted: "I saw the sky light up green while walking the dogs that night. It was over the top of Huddersfield Road Quarry, Newhey. I could tell it was somewhere in Littleborough. Weird!!! Definitely not a firework, it was too big."
Others agreed with Josh Uddinn's extra-terrestrial conclusion: "The truth is out there... Time to open the X Files."
Matthew Jackson captured this striking image of the lights from Falinge Park High School.