Hospital medics in north Cumbria have faced a flood of patients bitten by their pets, with more than 18,000 treated over the last five years.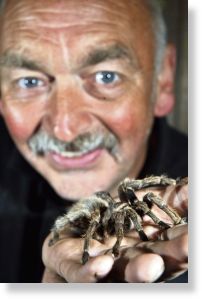 The staggering statistic has been revealed by the NHS trust which runs the Cumberland Infirmary in Carlisle and Whitehaven's West Cumberland Hospital.
While the benefits of pet ownership are well documented, the figures - released in response to a Freedom of Information request - show the potential dangers.
Since 2010, medics at North Cumbria University Hospitals NHS Trust treated 18,404 people who were bitten by either dogs or by more exotic and unusual pets.
The number of dog bite patients was 9,898, but the next most dangerous pets were rats, with the two hospitals treating 8,326 bite injuries from the rodents in five years.
The last financial year saw the lowest number of rat bites - 999, compared with 1,911 the previous year.
Non-venomous insects - such as many breeds of spider - represented the next biggest pet injury category, with 51 bites treated. Over the same five years, medics treated seven bee or wasp sting injuries, and one venomous spider bite, as well as one "marine mammal."
The figures have caused surprise even among professionals who work with exotic animals in Cumbria.
Andy Gray, 50, who runs the Border Reptiles business in Wigton Road, Carlisle, said: "Reptiles are one of the safest animals to keep but spiders can be quite unpredictable.
"Spiders and reptiles can never be fully domesticated. If an animal doesn't want to be handled it may well bite you - which is, after all, a natural defence mechanism."
In his experience, said Mr Gray, most owners of exotic pets do their research and are fully aware of the risks.
Only once in his 30-year career has he had a painful bite - from a tarantula spider.
He said: "I suppose I was a bit too relaxed, and complacent. It was extremely painful - I had an allergic reaction."
Ricky Pieri, manager of Carlisle's Nu-Pets pet shop in Carlisle, said: "The pet you have to be cautious round is a ferret because their teeth are extremely sharp and lock on to things.
"There can be a problem if they smell food around your face or on your fingers. Hamsters are short-sighted and again, if they smell food they might try to take a bite."
Terry Bowes, who runs the Wetheriggs Animal Rescue Centre at Clifton Dykes near Penrith, said: "Animals can become aggressive if they're kept in the wrong environment. There are cases of people keeping racoons, and taking them out on a lead.
"Iguanas are another example of animals which are kept inappropriately as pets. They're bought as cuddly little lizards but the males can grow to 6ft long."