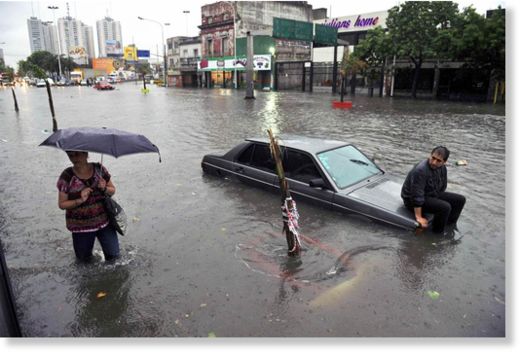 A cold front moving northward across Argentina, Uruguay and southern Brazil has triggered thunderstorms, strong winds and heavy rain over the last few days. Flooding in Buenos Aires province in Argentina has forced over 1,500 people to evacuate their homes. Storms have also caused power outages and damage to property.
In Buenos Aires Province, areas worst affected by the flooding so far include La Matanza (part of Greater Buenos Aires city) where over 1,000 have been evacuated, and the city of Pilar, where 200 have evacuated. For a full list of affected areas, see the list
here.
Por favor ayuda para Virrey del Pino. Mi amiga Ana tiene la casa así. Y toda Matanza igual. pic.twitter.com/TSyKZbSFlb

- Florencia Converti (@flor_converti) October 30, 2014
Hoy, en Laferrere, Partido de La Matanza (67% de votos para el Frente Para la Victoria en las presidenciales 2011) pic.twitter.com/EL2ejqngMW

- Stratokaster (@xStratokaster) October 29, 2014
There is also concern for residents of Luján, where levels of the Luján River have increased rapidly over the last 2 days, increasing at a rate of 20cm per hour. Over 100 people have been evacuated and authorities have issued a high level flood warning for the area.
Argentina's National Met Service (SMN) said that the heavy rain is expected to continue for the next 12 to 24 hours, in the provinces of Buenos Aires, Entre Ríos, Córdoba and Santa Fe. Concordia in Entre Ríos saw 68 mm of rain in the last 24 hours.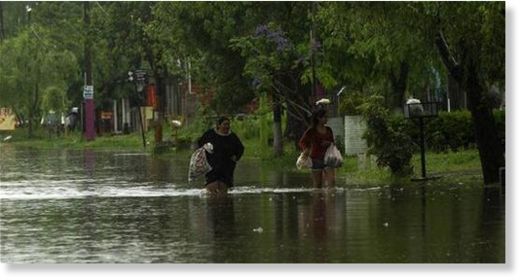 It also appears that the severe weather system is moving northwards after 63 mm of rain fell in Bagé in the south of the state of Rio Grande do Sul, Brazil, during the last 24 hours.
In the next 5 days there could also be a threat of flooding for Paraguay and Bolivia as the cold front moves north.
Buenos Aires Province Rainfall Figures
Figures according to WMO for 24 hour period between 28 and 29 October 2014
Dolores - 72 mm
Las Flores - 81 mm
La Plata - 70 mm
Ezeiza - 74 mm
Argentina suffered from severe flooding during June
this year after several rivers overflowed following heavy rain.
Buenos Aires and La Plata
saw widespread damage caused by massive rainfall and flooding in April 2013.
Official figures
say that 89 people died in the disaster.