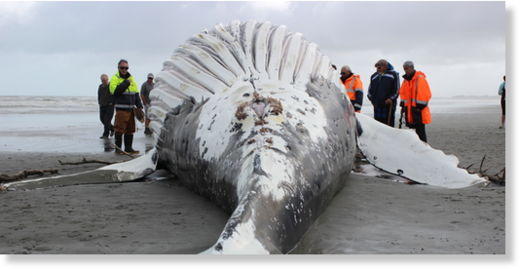 A 10 metre-long humpback whale has washed up dead on Waikanae Beach early this morning.
Department of Conservation spokeswoman Jane Dobson said they received reports of the stranding, south of Waikanae Boat Club, around 6.30am.
"It's been confirmed that it's a humpback whale, approximately 10 metres long and estimated to be about 25 to 30 tonne.
"Senior ranger Brent Tandy has said that its smaller size suggests it's not fully mature."
Ms Dobson said it was unknown how the whale had died, but it appeared to have been dead for some time.
"It's a little bit smelly and it's not in the nicest condition."
Although there had been no other recent sightings of humpback in the area, it was common for them to be migrating back along the West Coast, Ms Dobson said.
Doc staff were currently with the whale and it was due to be buried further along the Kapiti Coast early tomorrow morning with the help of local iwi Te Atiawa Ki Whakarongotai, she said.
A sample of the whale's blubber would be sent to Auckland University for analysis.
"They've decided that they'll send off a sample but they're not going to do an autopsy for this one."
Exactly 110 years ago, on October 29, 1904, a 16 metre wright whale valued at £300 to £400 washed up on Waikanae Beach, discovered by Wi Parata.