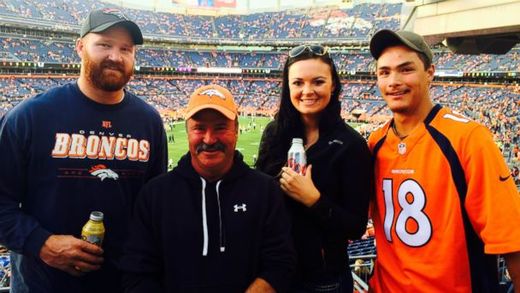 Paul Kitterman told his friend Tia Bakke that the experience of being at his first ever Denver Broncos game in person with his son was "awesome" - and that was the last she heard of him.
The 53-year-old from Kremmling, Colorado, seemingly vanished into the Sports Authority Field crowd at the Broncos-Chargers game Thursday night in what Denver police now call a missing persons case.
"He would never bail on his son, or anyone," Bakke told ABC News, "so by Friday night, we knew something was really, really, wrong."
Bakke, who traveled with Kitterman and his son, Jarod, to the game, said they had plans to meet afterwards at a stadium gate.
"We go down to gate 8. No Paul. We wait an hour. No Paul," she said.
Bakke's group contacted stadium security and searched around the grounds until 1 a.m. before finally heading back to Kremmling without Kitterman.
Kitterman has few contacts in Denver and had no cell phone, credit card or vehicle with him, Bakke said. She added he had plans to go hunting with his son the next morning.
Denver police have filed a missing persons report, are assisting the family and are investigating, but are not actively searching on foot because they are not certain a crime was committed.
"With 70,000 people and cameras all over the stadium, you would see something if a violent crime occurred," Sonny Jackson, a police spokesman, told ABC News.
Now, friends and family are posting signs around Denver and appealing to the public to help with the search, Bakke said. But as time goes on, they are growing more concerned they are running out of options.
"Now we're just sick about it, and we have no idea what to do," Bakke said.
Video here
.