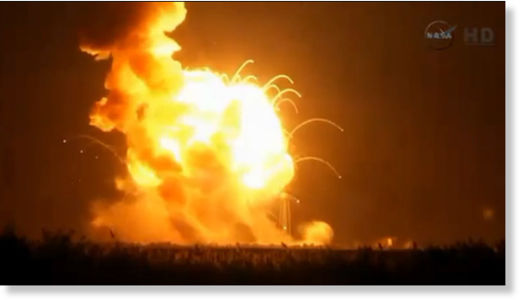 An unmanned rocket exploded shortly after takeoff Tuesday evening on Virginia's eastern shore. Orbital Sciences' Antares rocket was carrying thousands of pounds of equipment to restock the International Space Station.
The launch was supposed to be the third of eight planned Orbital missions to ferry gear and food to astronauts aboard the ISS. The rocket had some 5,000 pounds of food, supplies and science experiments, which all were engulfed in a fireball just above NASA's Wallop's Island facility.
The team on the ground has confirmed there are no injuries, although because of "classified crypto equipment" onboard, it is in the process of securing the surrounding area, chatter on the livestream of the launch said.
Orbital called the enormous blast a "vehicle anomaly" on Twitter.
There has been a vehicle anomaly. We will update as soon as we are able.

- Orbital Sciences (@OrbitalSciences) October 28, 2014
The Antares was originally supposed to lift off on Monday, but the launch was postponed 10 minutes before take-off because a sailboat ended up in the restricted danger zone south of the Virginia complex, the Associated Press reported. Controllers promptly halted the countdown.
.@OrbitalSciences declares contingency. @NASA and Orbital determining when press conference will be held. Updates: http://t.co/6Bo6KBRWnG

- NASA (@NASA) October 28, 2014
Each delivery by Orbital Science's unmanned Cygnus capsule honors a deceased person linked to the company or a commercial spaceflight. Tuesday's mission was a tribute to Mercury astronaut Deke Slayton, who led a rocket company until his death in 1993. As a retro-style homage, Orbital Sciences flight controllers wore short-sleeved white shirts and skinny black ties.
Along with 32 mini-research satellites, a meteor tracker and a tank of high-pressure nitrogen to replenish a vestibule used by spacewalking astronauts, the company stowed a post-Halloween surprise for the two Americans, three Russians and one German aboard the ISS, Orbital said at a prelaunch news conference Sunday.
The launch of the Orbital Sciences' #Antares Rocket has failed immediately after launch pic.twitter.com/OPp8s9Uc7k

- Jason Rabinowitz (@AirlineFlyer) October 28, 2014
Antares Rocket blows up on liftoff #breaking #7news pic.twitter.com/YVBu96gt6u

- Brad Tatum (@BradTatum) October 28, 2014
Orbital Sciences, a US-based company designing and manufacturing small- and medium-sized rocket systems, has been contracted by NASA to resupply the ISS.