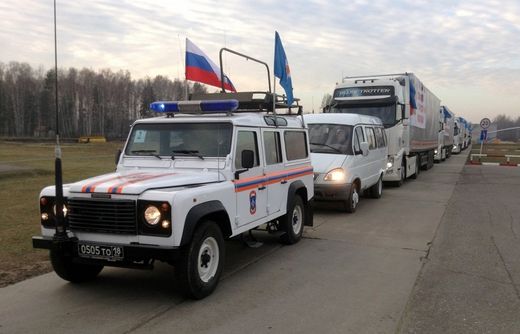 Russia's fourth humanitarian convoy has started its journey from the Moscow Region to south-eastern Ukraine, a TASS correspondent reported on Tuesday.
The convoy of 100 trucks is expected to deliver a total of 1,000 tons of humanitarian cargo, including food, medicines, bottled water and building materials needed to restore the infrastructure in the conflict-hit region.
"We plan that tomorrow evening the convoy will be in Rostov Region in the village of Kovalevka. We will further act in coordination with the Foreign Ministry and the Red Cross," Russian Deputy Emergency Situations Minister Vladimir Stepanov told journalists.
A spokesman for Ukraine's National Security and Defense Council, Andriy Lysenko, said earlier on Tuesday he has no information on Russia's plans to send humanitarian aid to eastern Ukraine. "The Ukrainian side has received no official information on this issue," he said.
During the week, the Russian Emergency Situations' convoy is due to deliver up to 3,000 tons of humanitarian aid. The cargo will be delivered in 1,000 batches by both trucks and aircraft, he said.
Stepanov explained that on Tuesday three aircraft are to deliver humanitarian aid to Rostov-on-Don, in southern Russia. The cargo, which had been collected from across Russia, will be later shipped to cars there.
The first three convoys delivered to the Donetsk and Luhansk Regions some 6,000 tons of food supplies, power generators, medicines, warm clothes and bottled water.
Humanitarian situation in south-eastern Ukraine
The Russian Foreign Ministry has marked an improvement of the humanitarian situation in south-eastern Ukraine, where refugees are returning and artillery fire has become less intense, the head of the ministry's department for CIS countries said on Tuesday.
"The past days have shown that in general the ceasefire regime holds. Provocations are taking place, but there is now no more massive firing like several days ago," Viktor Sorokin said at the meeting of the Federation Council commission for monitoring the situation in Ukraine.
Sorokin said for the first time the number of citizens coming back to the Donetsk and Luhansk regions has exceeded the number of those who are leaving the areas "This is hope for restoration of peace and constructive work," the diplomat said.
At the same time he said that the humanitarian situation in the region is still of concern. "The infrastructure and residential buildings have been severely damaged. Power supply has been cut off," he said.
"Russia has already sent three humanitarian convoys to southeastern Ukraine," he said, adding that the fourth convoy is expected to reach the Russian-Ukrainian border by Wednesday morning.
Earlier this week, the Russian Federal Migration Service (FMS) said some 226,000 Ukrainian nationals have sought a refugee status or a temporary asylum in Russia since the military conflict hit the former Soviet republic in April.