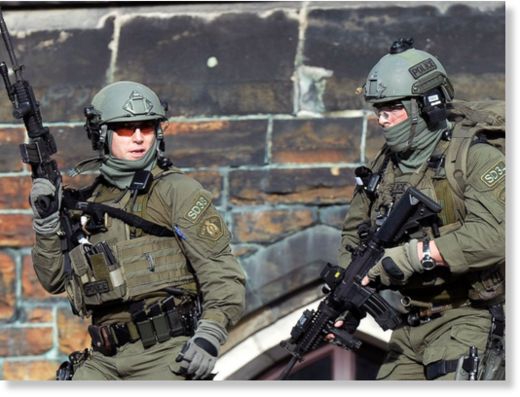 Heavily-armed police cleared Canada's Parliament building today and are searching for three suspects after a trio of shooting incidents near the Parliament left a soldier wounded. Gunfire was heard inside Parliament.
One of the three suspects was "dealt with," according to a spokesman for the Ottawa Police.
The gunfire prompted security force to hustle Prime Minister Stephen Harper to a "safe" place not at Parliament Hill, his spokesperson said. Harper's usual office is in a building near the shooting site.
"The prime minister is safe and not on Parliament Hill and being briefed by security officials," his spokesman Jason MacDonald said.
Ottawa Police said
via Twitter
the initial shooting took place at 9:52 a.m. at the National War Memorial of Canada, but that was just the beginning of the violent episode, which has now stretched into investigations in two other locations: Parliament Hill and the nearby Rideau Centre, a large shopping mall that was subsequently evacuated.
Ottawa Police Constable Marc Soucy told Canada's CTV police were searching for more than one suspect and no one has been arrested.
Civic Hospital in Ottawa, the country's capital, has received three patients, two of whom are in stable condition.
Earlier today witnesses told CTV they saw a man with long hair carrying a rifle and heard four shots fired at the soldier, who was guarding Canada's Tomb of the Unknown Soldier.
A witness told Canada's CBC the gunman then ran the short distance to Canada's Parliament, jumped a wall, stopped a car at gunpoint and hijacked it, the witness said. The driver got out safely, then the man drove the car to the Centre Block on Parliament Hill where senior government leaders have their offices.
A CBC reporter inside the Canadian Parliament reported chaos there, hearing lots of gunshots. A lawmaker tweeted more than 30 shots were heard inside Parliament's Center Block.
All military bases in Canada have been put on lock down in response to the events in Ottawa, CTV reported. The U.S. Embassy in Ottawa recently followed suit.
Senior FBI and Department of Homeland Security officials told ABC News they are closely monitoring the situation. The White House said President Obama has been briefed.
Canada raised its national terrorism alert level today, following an incident Monday in which a Canadian soldier was killed in a hit-and-run by a man suspected to have been a radicalized jihadist.
"This level means that intelligence has indicated that an individual or group within Canada or abroad has the intent and capability to commit an act of terrorism," Jean-Christophe de Le Rue, a spokesman for the Public Safety Ministry said, according to AFP.