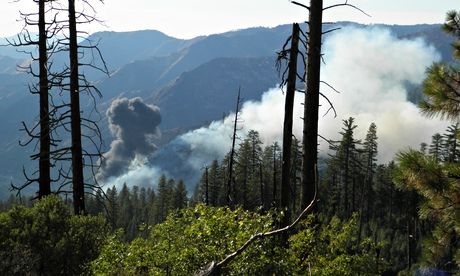 An air tanker plane being used to fight a wildfire in Yosemite national park has crashed, killing the pilot, officials for the park and the California forestry and fire department have said.
Emergency workers reached the crash site near the Dog Rock fire on Tuesday evening and found the pilot had been killed, authorities announced. The pilot was yet to be named.
Witnesses saw the plane slam into the wall of a cliff above Highway 140 near the Arch Rock entrance to Yosemite on the western edge of the park "and yes, there was a lot of fire", park spokeswoman Kari Cobb said.
She said crews were just reaching the site of the wreckage several hours after the accident. There was no word on what caused the crash.
Alyssa Smith, of the California fire service, said the pilot was the only person on board at the time.
Authorities began searching for the tanker, a two-engine Grumman S-2T, after it lost radio contact with spotter planes that had been flying alongside it, fire spokeswoman Lynne Tolmachoff said.
The Dog Rock fire broke out at about 2.45pm on Tuesday near Arch Rock and prompted the evacuation of about 60 homes in the nearby community of Foresta, as well as the closure of the Highway 140 entrance into the park, Cobb said.
State officials have said this year's California fire season, which traditionally runs from May to October,
is on track to be the most destructive on record, with record drought intensifying conditions.
The fire service has responded to more than 5,150 wildfires already and typically the largest blazes occur in October. The Dog Rock fire was the third big fire to break out in Yosemite this year, Cobb said.
The accident came two years after an air tanker plane crashed on a forested mountainside in south-western Utah in June 2012 while on a mission to drop chemical fire retardant on an 3,238-hectare (8,000-acre) blaze near the Nevada border. Two crew members from Idaho were killed.
via Reuters