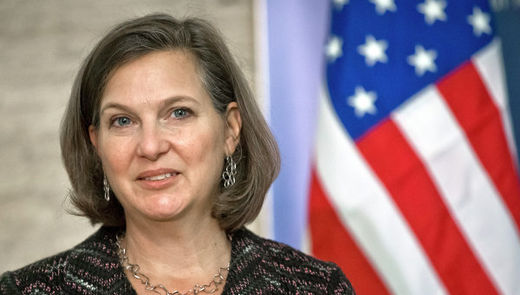 US Assistant Secretary of State for European and Eurasian Affairs
Victoria Nuland
confirmed Tuesday that
if the Minsk agreements are fully implemented
, the United States could lift a number of sanctions against Russia.

Comment: Someone do Nuland a favor and loan her a functioning brain. This is practically an invitation for Kiev to violate the Minsk agreements. Of course, Nuland is fully aware of this.


Speaking at a meeting with the students of the Taras Shevchenko National University of Kiev, Nuland said the United States could cancel some of the
sanctions
it had imposed against Russia if the Minsk agreements are fully implemented and
if both sides of the Ukrainian conflict observe the ceasefire
.

Comment: Russia supports the Minsk agreements; there wouldn't even be any Minsk agreements if it weren't for Russia. So Nuland is essentially saying that the U.S. will stop punishing Russia when Russia's enemy stops killing Russians in Novorussia. In what world does that make sense?


The conflict in Ukraine started in April, when Kiev authorities launched a military operation against independence supporters in the southeastern regions of the country.
On September 5, a ceasefire agreement was signed between the two sides during the meeting of the
Contact Group
on Ukraine in the Belarusian capital, Minsk. The meeting was attended by representatives from Russia, Ukraine and the Organization for Security and Co-operation in Europe (OSCE).
On September 19, a memorandum was drawn up by the Contact Group, specifying the ceasefire. The memorandum stipulated the creation of a 30-kilometer (18-mile) buffer zone, withdrawal of all heavy weapons from residential areas and the deployment of an OSCE monitoring mission in southeastern Ukraine.
Both the Kiev forces and independence fighters have been accusing each other of violating the
ceasefire
.
The United States and the European Union have introduced several rounds of economic sanctions against Russia, blaming Moscow for meddling in Ukraine's internal affairs - claims that Russia has repeatedly denied.
On October 3, Nuland said that the United States would be ready to lift some of the sanctions against Russia if the ceasefire agreements reached in Minsk were observed.