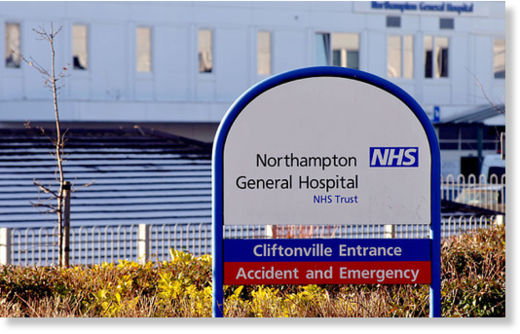 A six-month-old baby girl has been killed in a dog attack at a relation's home.
The baby, who has not been named, was being looked after by a female relative when she was mauled by the pet.
The woman tried to wrestle the dog off the baby and suffered bite wounds as she tried to restrain it.
Emergency services were called and paramedics fought to save the little girl but she was pronounced dead at hospital. The dog was eventually destroyed at the scene in Northamptonshire.
Police and ambulance staff were said to have been traumatised by what they witnessed and were being offered support last night.
Northamptonshire Police said it could not confirm the breed of dog. It said tests would be carried out by experts early next week to determine what it was however a spokesman said one line of inquiry was whether the destroyed animal was an illegally-held breed such as a Pit Bull terrier.
The breed was banned in 1991.
Detective Sergeant Gary Baker, who is leading the investigation, said yesterday: "This was a deeply distressing and tragic incident and our thoughts are with the family who have been left devastated by the events of last night.
"Incidents such as these are extremely rare in this country, but that will be of little comfort to the relatives of this tragically young victim.
"The family have requested that they be left to grieve at this difficult time."
Emergency services were called to the property in Morning Star Road, Daventry, at around 10.30pm on Friday.
Officers and paramedics from East Midlands Ambulance Service (EMAS) attempted to resuscitate the child but she was pronounced dead at Northampton General Hospital.
Chris Heaton-Harris, the Conservative MP for Daventry said officers who attended the scene had been left traumatised by what they saw.
"Obviously my thoughts and prayers are with the family. I would especially like to thank the officers who attended the scene," he said.
"I understand they attempted to revive the baby girl and are badly affected by what they experienced."
The Northamptonshire force has dealt with 62 instances of attacks involving dogs in the past two years.
Chris Over, a Conservative councillor on Daventry District Council, said the death was a "wake-up call" to bring back dog licensing. Dog owners in Britain used to be required to have a licence but they were widely ignored and eventually abolished in 1987.
He said: "The trauma for the family must be awful and our hearts go out to them. It is a wake-up call for people to make certain that when they select a dog it is a breed that has a good reputation and that they are able to control the dog.
"There have been a number of incidents like this around the country in recent times. It seems to me that there should be some kind of legislation in place."
Phil Morris, spokesman for EMAS, said: "Although our staff did everything possible, tragically, the baby did not survive her injuries.
"This was a very distressing incident and we offer our deepest sympathies to the family. Our crews were understandably saddened by their experiences and we are providing support to all colleagues who responded."
The baby's death comes just weeks after a coroner criticised the lack of national standards for the rehoming of dogs in kennels after the death of four-year-old Lexi Branson in her family home in Leicestershire.
The Aylestone bulldog-type family pet killed Lexi after attacking her in the lounge of their two-bedroom flat in November last year.
Lexi's mother, Jodi Hudson, told the inquest that the animal had gone straight for the four-year-old's throat. Miss Hudson had paid £50 to a rehoming centre last October for the pet. Unknown to the family or staff at the rehoming centre, the dog had gone through six previous owners. While it had been assessed as suitable for rehoming by staff, a note stated it might not be right for a home with "smaller children".
In February 11-month-old Ava Jayne Marie Corless died after being mauled by an "American pitbull-type" dog at a home in Blackburn, Lancashire.