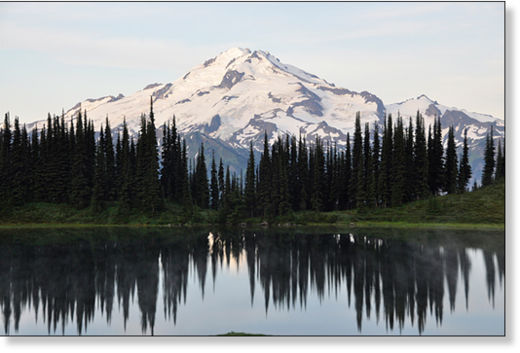 The U.S. Geological Survey has decided to keep a closer eye on the slumbering giant in Snohomish County's wild, scenic back yard. A new study is under way for Glacier Peak, one of the most dangerous but least monitored volcanoes in the country.
Scientists are working to map Glacier Peak and the valleys and peaks to the west - about 482 square miles total - using Light Detection and Ranging, or LiDAR. The technology allows them to get an accurate lay of the land even in remote, heavily forested areas, said Jim Vallance, a research geologist with the Cascades Volcano Observatory.
This helps researchers examine past eruptions, prepare for future volcanic activity and determine the best locations for installing real-time monitoring systems.
The USGS National Volcano Early Warning System classifies Glacier Peak as a "very high threat" volcano, on par with Mount St. Helens or Mount Rainier. The St. Helens eruption in 1980 killed 57 people, destroyed hundreds of homes and wiped out at least 47 bridges and 185 miles of highway.
A large eruption of Glacier Peak could send a deadly wall of mud, rock and glacial melt barrelling through parts of the Stillaguamish and Skagit valleys. These catastrophic flows, called lahars, form the land on which Darrington, a town of about 1,400, sits today. Parts of Arlington and Stanwood might lie in the path of a lahar. Scientists also suspect that Burlington, Sedro-Woolley and Lyman in Skagit County are built on top of debris laid down by Glacier Peak's mudflows tens of thousands of years ago.
A 2005 assessment by the National Volcano Early Warning System concluded that Glacier Peak needs to be observed and studied more extensively. A lone, outdated seismometer is the only equipment currently in place, Vallance said.
Plans to map the volcano and set up additional monitoring stations in the past decade were put on hold due to lack of funding.
"Many of our higher profile volcanoes already have LiDAR, and one that we wanted but didn't have it for was Glacier Peak," Vallance said. "We started investigating various sources of funding and, lo and behold, it all came together this year."
The LiDAR mapping is about 30 percent complete, and they hope to finish by mid-October, he said.
The U.S. Geological Survey plans to compile data by early 2015, after which scientists can start to analyze the results. They eventually aim to put instruments on the volcano that can monitor activity in real time and help predict future eruptions.
Glacier Peak is Snohomish County's only volcano, standing at 10,541 feet in the remote Cascade Range. More than a dozen of its namesake glaciers hug the sides of the mountain.
It's a difficult volcano to get to, with the only reliable access via trials branching off the Mountain Loop Highway between Darrington and Granite Falls. To reach it on foot requires an arduous, multi-day hike, and scientists must work within a two-month window when the weather allows full access to the mountain.
Glacier Peak is one of 18 volcanoes in the country considered a "very high threat." Threat levels were determined by scoring and ranking 169 U.S. volcanoes on factors such as past eruptions, recent seismic activity and proximity to populated areas and important infrastructure.
Most U.S. volcanoes dot the west coast of the country, part of the Ring of Fire that circles the Pacific Ocean. Five considered to present the highest threat are in Alaska, four each in Washington and Oregon, three in California and two in Hawaii.
Glacier Peak erupts more violently than the other four active volcanoes in Washington, according to the U.S. Geological Survey. It also does so more frequently. The last eruption was about 240 years ago, and the most recent large eruption took place an estimated 1,800 years ago. The odds of an eruption on any given day is about 1 in 1,000, based on USGS estimates.
In 2007, Snohomish County began requiring people to sign a disclosure form before building in the path of a possible volcanic eruption or a tsunami, acknowledging the risk of a natural disaster. The National Volcano Early Warning System has identified 57 volcanoes in the country that need better monitoring. Glacier Peak, Mount Baker, Mount Rainier and Mount St. Helens are listed as the highest priorities in Washington.