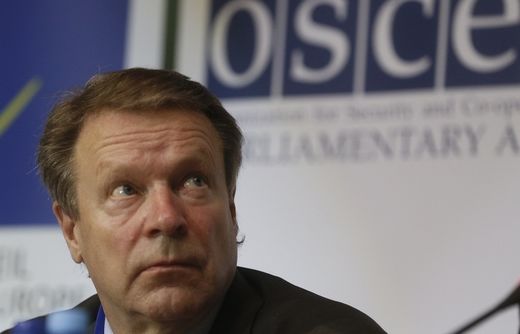 Deliveries of Russian relief aid for Ukrainian war-torn eastern Donetsk and Luhansk regions, which currently face a humanitarian catastrophe, were transparent, a senior executive at the Organization for Cooperation and Security in Europe (OSCE) said on Thursday.
President of the OSCE Parliamentary Assembly Ilkka Kanerva, who is currently on a visit to Moscow, said the European organization had always supported humanitarian aid and Russia's assistance delivered by three convoys of trucks was open and understandable.
The OSCE official also said he was surprised with attempts of some countries to politicize the issue of Russian humanitarian aid deliveries to Ukraine.
Russia sends humanitarian aid to south-east Ukraine
Last Saturday, the 200-truck convoy with relief supplies from Russia arrived in the city of Donetsk. It was the third humanitarian convoy of trucks that brought an overall of 2,000 metric tons of humanitarian cargo, which included cereals and canned products, power generators, medical supplies, warm clothes and bottled drinking water.
With its two previous convoys of trucks with humanitarian aid Russia sent a total of 4,000 tons of food, medicine, water purification equipment and power generators to help Ukrainians in the war-ravaged regions survive the humanitarian catastrophe.
The first Russian humanitarian convoy reached Ukraine in late August, after more than a week of waiting at the border for all the sides to agree.
OSCE mission may visit Luhansk, Donetsk
The OSCE election observation mission for early parliamentary elections in Ukraine may visit the Luhansk and Donetsk regions, Kanerva said on Thursday.
Answering a question if OSCE observers take part in observing the elections in the Luhansk and Donetsk People's Republics, he said the parliamentary elections in Ukraine were very important as a step towards developing democracy in the country. Kanerva said he was sure that democratic elections were indispensable in Ukraine.
The OSCE is doing everything possible to help Ukraine organize democratic, free and fair elections, he added. The OSCE short-and long-term missions are deployed, Kanerva said.
At the same time, he said he could not name the exact number of observers. Kanerva said he was hopeful that the eastern territories would also be the mission's sphere of activity.
The people who live there should be represented in the Verkhovna Rada (parliament) to meet the interests of the regions' residents, he said.