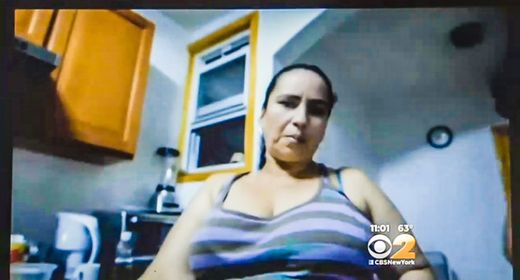 The New York Police Department (NYPD) launched an investigation this week after a watchdog group released video showing officers in Brooklyn slamming a pregnant woman on the ground.
On Tuesday, police watchdog group El Grito de Sunset Park
posted video
of a Saturday confrontation between police and 17-year-old John Lemos.
According to the group, the woman said that officers were harassing her 17-year-old son, John Lemos, for a prior robbery arrest. Police, however, said that they were trying to arrest Lemos for possession of a knife.
"According to this young man, the cops, when they put the razor blade in his pocket, they told him, 'We're going to make sure this time, it sticks,'" Dennis Flores of El Grito de Sunset Park explained. "So the mom saw this, started yelling out, and the cops
grabbed her and slammed her against the floor like we see in the video. And they put a Taser to her stomach
."
"She is pregnant! Oh my gosh!" a person in the recording can be heard yelling.
The pregnant woman said that the stun gun left burns on her stomach. Police were also seen slamming another woman on the ground when she allegedly tried to interfere.
Flores
told WABC
that Lemos's mother was still trying to recover.
"Her belly is now with black and blue bruises," he said. "She's bleeding and she's having complications."
"It was disgusting what we saw," Flores added to WCBS. "You know, how can you treat a human being this way - you know, an innocent child in the belly?"
Watch the video below from WCBS, broadcast Sept.24, 2014.