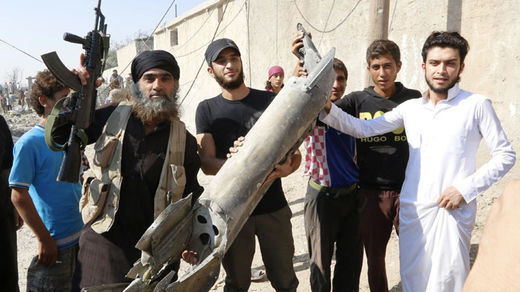 US Secretary of State Kerry brokered a deal in Afghanistan, installing a 'coalition' government, but couldn't come up with a credible coalition to bomb IS in Syria. So the Pentagon will do it alone to the applause of its Gulf 'petrodollar allies.'
This is a short tale of two coalitions.
Let's start with Afghanistan. The charade in Kabul goes by the name of "power-sharing agreement."
You got an election problem? Call John Kerry. That's right; this "agreement" was brokered by none other than the US Secretary of State,
who shoved the embarrassing issue of a tainted democratic election under an Afghan carpet
.
It came to the point that a UN representative, Jan Kubish, virtually ordered the Afghan electoral commission not to release vote numbers.
And this is while the UN itself had been monitoring an audit and a recount of approximately 8 million votes.
The predictable "senior US officials" spun that the vote result was "transparent." But still, no numbers.
So now we have - essentially appointed by Washington - former Finance Minister and World Bank official Ashraf Ghani as President, and Dr. Abdullah Abdullah as "Chief Executive", a new post.
And this after Abdullah insistently claimed the vote results were no less than a monster fraud. US "Think Tank-land," unfazed, has called it a "temporary fix."
Now for the all-important breakdown: NATO top honcho Gen. Philip Breedlove said Saturday in Lithuania that both "power-sharers" swore on their lives they will "quickly" sign a security agreement with Washington.
This agreement was brokered, once again, by Kerry and outgoing President Hamid Karzai in late 2013 - and approved by Afghanistan's Loya Jirga. Karzai though had refused to sign.
Short translation: at least 10,000 American troops - mostly Special Forces - will remain deployed in Afghanistan in Enduring Freedom Forever mode. This is a Status of Forces Agreement (SOFA) by any other name.
So
the occupation continues.
Not only with US troops, but also with NATO starting a "training mission"in January 2015 called Resolute Support.
Watch out for major, certified blowback.
It's a no-brainer the Taliban will keep showing Resolute Support to kick NATO and the US's collective behind.
But that's great.
That's exactly what the never-ending GWOT (Global War on Terror) is all about.
When in doubt, bomb everybody
Now for the coalition to fight Caliph Ibrahim, the self-appointed beheading prophet of ISIS/ISIL/IS in "Syraq".
US ambassador to the UN Samantha Power has been on a roll ahead of the UN summit this week in New York.
She frantically spun there are over 40 countries in the coalition of the reluctantly willing assembled to fight the Caliph.
But she won't name them - or detail what they will be doing.
What she does know is that this
new GWOT chapter will last "several years."
Power also ruled out any collaboration with "rogue" Iran. But she was forced to admit that Russia has a role in fighting the Caliph.
Now that's groundbreaking. Until virtually yesterday, for the Obama administration Russia was the "evil empire" remixed.
Moscow did warn that, "bombing Syria without the cooperation of Damascus can have destructive practical consequences on the humanitarian situation in Syria."
Once again, the clearest Power got was to specify that, "we will not do the airstrikes alone if the President decides to do the airstrikes."
And once again,
John Kerry stole the show. For him, it's not 40, but "some 50" countries who are barely containing themselves to go Caliph-hunting.
Kerry, to his credit, and unlike Power, at least is now saying that Iran may "have a role" after all.
For his part, Iranian Deputy Foreign Minister Abbas Araghchi made it clear that
any strategy that undermines the Syrian government "will be a recipe for defeat."
And Russia's ambassador to the UN Vitaly Churkin demolished US President Barack Obama's strategy to train and weaponize Washington's mythical "moderate" Syrian rebels.
Even China's ambassador to the UN Liu Jieyi carefully weighed in: "The international community should respect the sovereignty, independence and territorial integrity of the countries in question."
Kabul was a piece of cake. Kerry just had to offer a decent bribe.
But that won't fly with the Caliph business.
Washington refuses to cooperate with Damascus and coordinate with Tehran - especially after Supreme Leader Ayatollah Khamenei vetoed it, and President Rouhani blasted Obama's strategy as
"ridiculous."
Meanwhile Turkey, a NATO ally, is screaming, "The Syrian regime is the patron of extremism," in the words of Turkish Foreign Minister Mevlut Cavusoglu.
Kerry at least does not need to bribe Haider al-Abadi, the new Iraqi Prime Minister. After all Washington already bagged its Mesopotamian regime change, getting rid of Nouri al-Maliki.
Al-Abadi decided not to bomb Sunni regions in Iraq. Yet
most of the Caliph's resources and goons are actually in Syria.
Call the French fry guy
The Pentagon, not to be unfazed, carefully prepared a "mini-Shock and Awe" in Syria and started in style this Monday, launching a barrage of Tomahawk missiles on Raqqa.
"General" Hollande in France has been eager to join. With his popularity numbers glamorously flirting with zero, deploying Rafales against the bad guys is the only game in town for him.
Now compare it with Germany, as Foreign Minister Frank-Walter Steinmeier insisted that air support or ground troops are "out of the question for us."
It's hard to see Kerry bribing Steinmeier.
So what's left is a coalition of two: Washington and Paris.
And it's only in Iraq, because "General" Hollande already said bombing Syria is out.
The breakdown:
bombing Syria will be via a coalition of the Pentagon with the Pentagon.
And this while Arab "diplomats" - as in the GCC (Gulf Cooperation Council) petrodollar gang - keep insisting the Pentagon should in fact bomb not only the Caliph's goons but also Bashar al-Assad's forces.
Which is what the Pentagon will "secretly" have in mind anyway.
Everyone remembers Obama's red line last year when he threatened to bomb Damascus for "gassing its own people" just for Moscow to have him back off at the eleventh hour.
Now Obama could fulfill his dream via a "leading from behind" bombing.
Will the petrodollar gang also attack? Of course not. They will be applauding from the sidelines.
And for the doubters, there will always be Obama's national security adviser, Susan Rice, spinning "this will be a unified coalition...It will be cohesive. And it will be under one single command authority."
The Pentagon commanding the Pentagon. What could possibly go wrong?